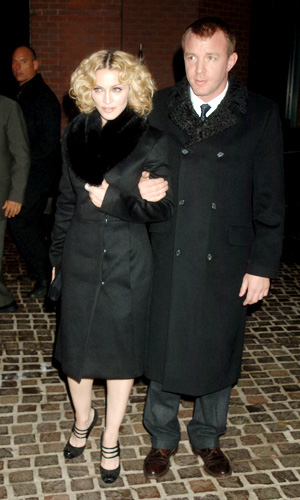 Caroline's screening report: In the 29 degree darkness after a day of snow, sleet and freezing rain Lady Madonna and her British-born husband Guy Ritchie held court for a select few to take a sneak peek at his new movie, Revolver. Although folks were saying the movie was a trifle stifling in the length department, I cannot wait to see it because I've loved his other movies, especially the one where you cannot understand a word that Brad Pitt says.
It is hard to describe the couple's "look" -- it falls somewhere between the local constable dressed for a very important ceremony and a well-honored, mature '30s movie star. Guy wore his Ralph Lauren suit impeccably and their closeness and togetherness was extremely visible.
Mickey's after-party wrap-up: It was a chic celebrity bottleneck at the Gramercy Park Roof for the Cinema Society and Piaget's after party for Guy Ritchie's new movie Revolver. Even glamorous New Yorkers were in full starfucker mode with Madonna (dressed in Dolce & Gabbana) in the house and they thronged over to her side of the room leaving the place half empty. Other guests included Zac Posen, Sarah Jessica Parker (also in Dolce), Alan Cumming, Dolce & Gabbana, Josh Groban, Michael Stipe and out of towners Ingrid Casares, Amanda Demme and Kelly Cole.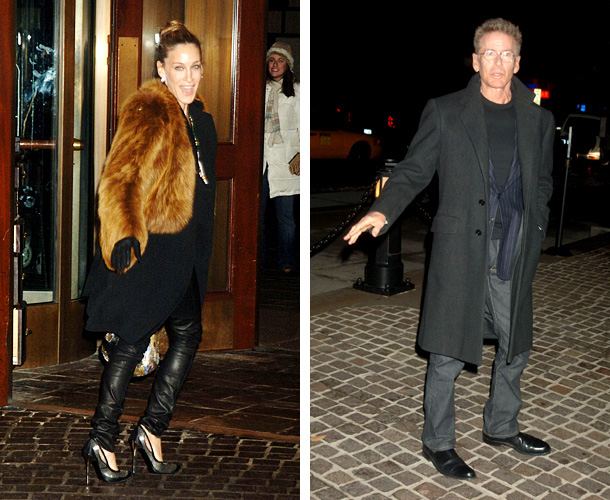 Photos by Caroline Torem Craig