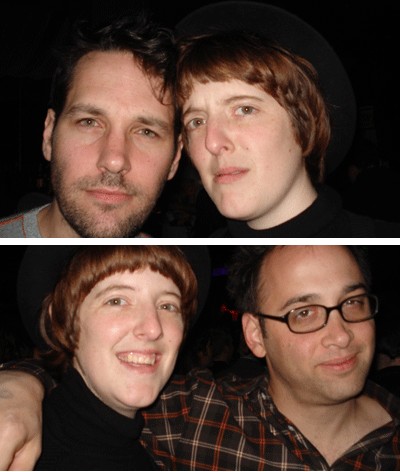 Saturday night was quite possibly the best night of my life. Of Montreal! Karaoke! Michael Showalter! David Wain! Paul Rudd! These things are incredible on their own, but together at Studio B they equalled perfection.
Michael Showalter (as himself and also as one of his characters from Wet Hot American Summer, Alan Schemper) hosted the night. Of Montreal played an amazing set featuring songs mostly from Hissing Fauna and Sunlandic Twins. Kevin Barnes and company are amazing performers, with shows that get more theatrical every time I see them. This time there was a gimp that adorned over-sized crustacean body parts and danced on stage while the band played. Barnes even got on his shoulders at one point -- while singing!
After their set there was a brief intermission followed by Of Montreal Karaoke! The band had picked a set of standard Karaoke songs (ie "Rasberry Beret," "Sweet Child Of Mine," "Blister In The Sun," etc) that they would play while attendees sang! It was incredible. The highlight of the night was definitely Paul Rudd and David Wain's surprise performance of Boston's "More Than A Feeling." The crowd went insane.
What's more, NY Doll went a little bit nutty herself. I was standing by the bar when Paul Rudd first walked in. I was basically in a Paul Rudd/David Wain sandwich at one point (see pics at right). Swoon!