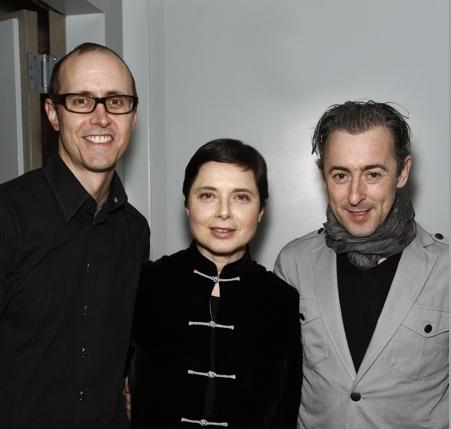 After a weekend of arctic temperatures, the premiere last night of
Isabella Rossellini
's incredibly warm
Animals Distract Me
was a welcome antidote. The 48-minute feature debuting to the masses on Earth Day (April 22nd) on
Discovery Channel's Planet Green
follows Rossellini and her guide-dog-in-training
Sweety
, from her country home in Bellport to Manhattan. The screening, held at the
SoHo House
, was a cozy affair, featuring pre-movie cocktails and mingling with artist
Shirin Neshat
,
Alan Cumming
and husband
Grant Shaffer
(who worked on the film's illustrations),
Ralph Fiennes
and
Vogue
's
Andre Leon Talley
, who was only seen later, holding court in the theater. 
Before the lights dimmed for viewing, Rossellini told the intimate audience, "I made a film about animals because that's what I love." In it, the model/actress illustrates how debilitatingly distracted she gets by these creatures via a series of interactions with friends including Leon Talley and photographer
Fabrizio Ferri
. Chef
Mario Batali
takes us through his kitchen (confirming that he does in fact wear orange Crocs on a daily basis), teaching Rossellini how to make moral choices when ordering from a menu -- stressing that being a flexitarian (one who occasionally eats meat) is often your best bet. Through these interactions Rossellini feigns focus, all the while thinking of the animals that surround her --the demodex (little mites that live on hair follicles) on her eyelashes, the crickets in Central Park and of course Sweety, who is one of eight guide-dogs the she has trained to work with the blind.  
A nice counter to apocalyptic global warming films, which generally evoke terror (if we don't do something now, the food chain is going to be swallowed whole into the earth!)
Animals Distract Me
makes you want to protect these cuddly beings simply because of their adorable factor. As the evening came to a close Cumming and his husband did an iPhone show-and-tell of who they'd be going home to - a Chihuahua and a Collie-Sheppard mix.
Pictured above: Grant Shaffer, Isabella Rossellini, Alan Cumming. Photographed by Anders Krusberg/Planet Green.