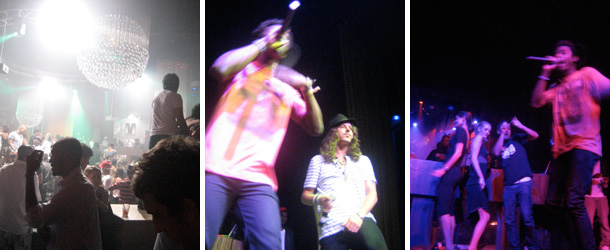 Whoever said that nightlife is dead in New York wasn't at DJ Reach and Alex Masnyk's birthday party at Mansion last night. The garguantuan-sized nightclub was filled to the brim with partygoers celebrating the birthdays of these beloved nightlife personalities. I had never been to Mansion before, so I was surprised to see that in the age of tiny, exclusive nightspots like Gold Bar and The Box, that the mega-club dancehall is alive and kickin right in good ol' Chelsea.
The night was a blend of live performances and stellar DJ sets. Bazaar Royale belted out his hybrid genre of hard rock and hip-hop, while his wife, DJ Beverly Bond worked the turntables in the background. And the crowd screamed in appreciation when DJ Pete Rock came out to spin, representing the old school.
But the highlight of the evening was the performance by Cisco Adler and Schwayze, straight off their hit MTV show Buzzin'. The crowd went wild and sang along word for word to their songs, and I even caught some super cute girls mouthing things like "I love you" to the boys on stage like crazed 1950's Elvis fans. I personally could not take my eyes of their impromptu backup dancers, led by publishing heiress and
model, Lydia Hearst. Yes, this was a sight to be seen. Sadly, I couldn't snap a shot of Alex looking so dapper in his suit and tie since he was so busy working the room of the hundreds of well wishers who showed up. Oh well, there's always next year.