About Last Night... Bob Dylan's Rolling Thunder Revue Tribute Band with Adam Green, Albert Hammond Jr. and The Pierces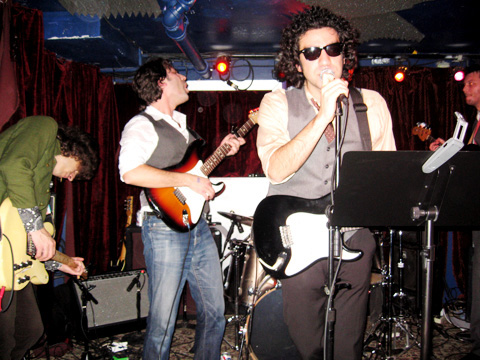 I saw the best show (almost) ever at Club Midway (the old Save the Robots spot) on Avenue B!!! If you are a manic Bob Dylan fan like I am, you'd have been in heaven! Dylan's 66th birthday is creeping up on May 24 (a Gemini) so a bunch of hip cats got together on Friday night to sort of restage Dylan's Rolling Thunder Revue as the Rolling Thunder Reborn Band.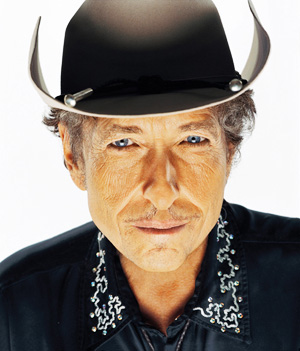 I must say, for a venue as small as Midway, and a cheap $5 door charge, there was a lot of star power there. But more impressively, really good vibes and awesome music. There were many, many rotating guest musicians, as is the tradition with RTR. Russell Simmons (Blues Explosion) came on to play drums on "Highway 61" and stayed for a few more. AG blew the hell out of a little bazooka on "Highway" and later did a rocking rendition of "Baby Let Me Follow You Down." David Mead sang "Rainy Day Women #12 & 25" and "Just Like a Woman." The Pierce Sisters came on to sing back up on "Changing of the Guards" from the Street Legal album (one of my favorites) with this hot dude who I didn't know, who also sang his heart out on "Someday Baby" and "She Belongs to Me." The Pierces also covered "The Man in Me," which was on the Big Lebowski soundtrack. Seriously, this was one of the funnest shows I've been to in a long time! The crowd was really mixed -- young and old as you can imagine. But unfortunately I had to cut out to go to my friend Gemma's engagement party at China Chalet by Wall St. Oh, I really hope that they do at least one more Reborn show -- it's to die for! And Happy Birthday, Bob!!!