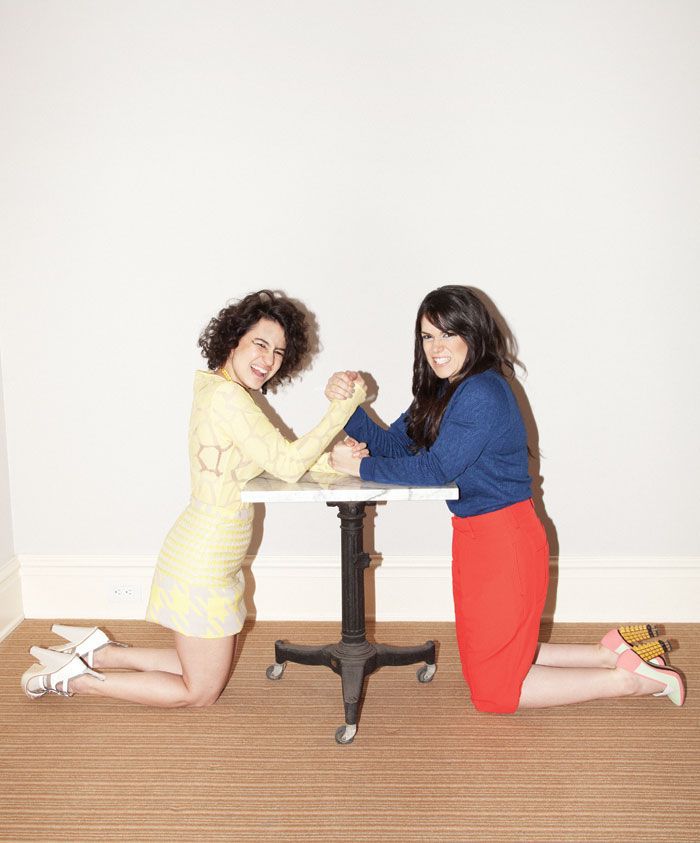 (l-r) Ilana wears a Sweater and Skirt by Timo Weiland, shoes by Rag & Bone and necklace by Lulu Frost. Abbi wears a sweater by H&M, shorts by Kenzo and shoes by Fendi.
Abbi Jacobson and Ilana Glazer, the whip-smart comedy duo behind the Web series
Broad City
, are carefully perusing the menu at Bubby's, a Tribeca brunch boîte. "They're expensive, but I'll have the banana walnut pancakes," Glazer tells our waiter. "I mean, I might be dead tomorrow."
It's this
carpe diem
'tude that's launched Glazer and Jacobson's burgeoning comedy careers. From a funky lo-fi Web series to an Amy Poehler-produced pilot,
Broad City's
truly the little show that could. "We made these vignettes with our friends, and for our friends," Jacobson says. "
Broad City
took a village."
"Abbi, that's such an old-person saying!" Glazer says. They high-five. The pancakes arrive.
Jacobson and Glazer met as students at the Upright Citizens Brigade Theatre in 2007. "We got to play onstage for two years as friends and find our voice," Jacobson says. "A Web series is now known as a vehicle to get something bigger, but when we started, it wasn't. We just said, 'Let's make something.'"
Once
Broad City
found its quirky voice (and an audience), Jacobson and Glazer asked Poehler to appear in an episode. The UCB honcho and
Parks and Rec
star quickly agreed. "The dreaminess of it was too much for my heart to handle," Glazer says. "It was like shooting stars in my eyeballs."
Now that the Poehler-produced
Broad City
pilot's in the can, Glazer and Jacobson perform monthly at the UCB Theatre. As we get up to leave, our waiter comes to clear the empty plates. "Seriously," Glazer tells him, "those pancakes were insane."