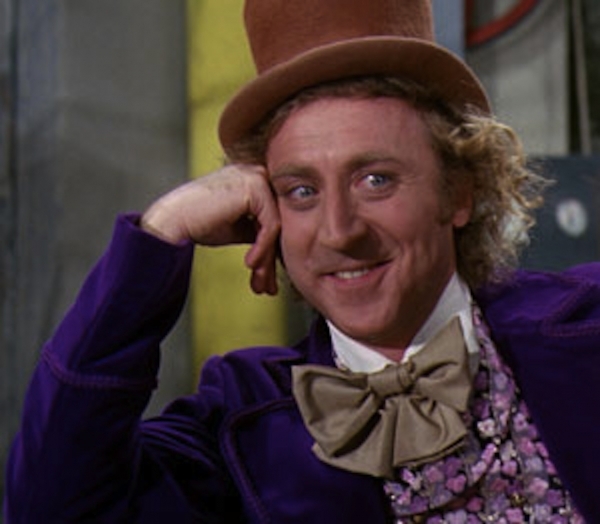 We've always been fans of the 1971
Willy Wonka & the Chocolate Factory
(preferring
Gene Wilder
as the eccentric candyman over
Johnny Depp
in the more recent version) and would feel simultaneously enchanted / creeped out by the time the credits rolled.  After reading the
Roald Dahl
book, Gene Wilder's take on the character seemed spot on: dreamy (that is, not grounded in reality), aloof, generous and fickle all at once.  While Johnny Depp was certainly entertaining in the role, his version, under the direction of
Tim Burton
, was obviously many steps further from reality than Gene Wilder's on the spectrum of fantasy.  While we could never truly imagine walking into Tim Burton-Johnny Depp's technicolor dream world, somehow the idea of running into Gene Wilder-as-Willy-Wonka on the streets of the Village or London's SoHo or Chelsea c. 1971 didn't seem like as great an impossibility.
Along with the actors who performed the part, special effects and costuming also contributed to the overall effect and it appears that Wilder put a lot of thought not only into his role but also into his wardrobe. 
Dangerous Minds
recently posted a letter Wilder wrote to the movie's director, Mel Stuart, concerning recent costume sketches and the actor's analysis is telling:

I don't think of Willy as an eccentric who holds on to his 1912 Dandy's Sunday suit and wears it in 1970, but rather as just an eccentric -- where there's no telling what he'll do or where he ever found his get-up -- except that it strangely fits him: Part of this world, part of another. A vain man who knows colors that suit him, yet, with all the oddity, has strangely good taste. Something mysterious, yet undefined.


Much like with Andy Warhol's MoMA rejection letter, none of this should come as such a surprise but somehow, with the passage of time, it seems to shed new light on a beloved film or create an "aha" element.  Just as we enjoy looking at "behind-the-scenes" photos depicting how movies create special effects, so too is it entertaining to go inside an actor's head and thought processes, particularly as it pertains to an iconic role. 

Read the entire letter, which comes from Willy Wonka & the Chocolate Factory (40th Anniversary Collector's Edition) over at Dangerous Minds.