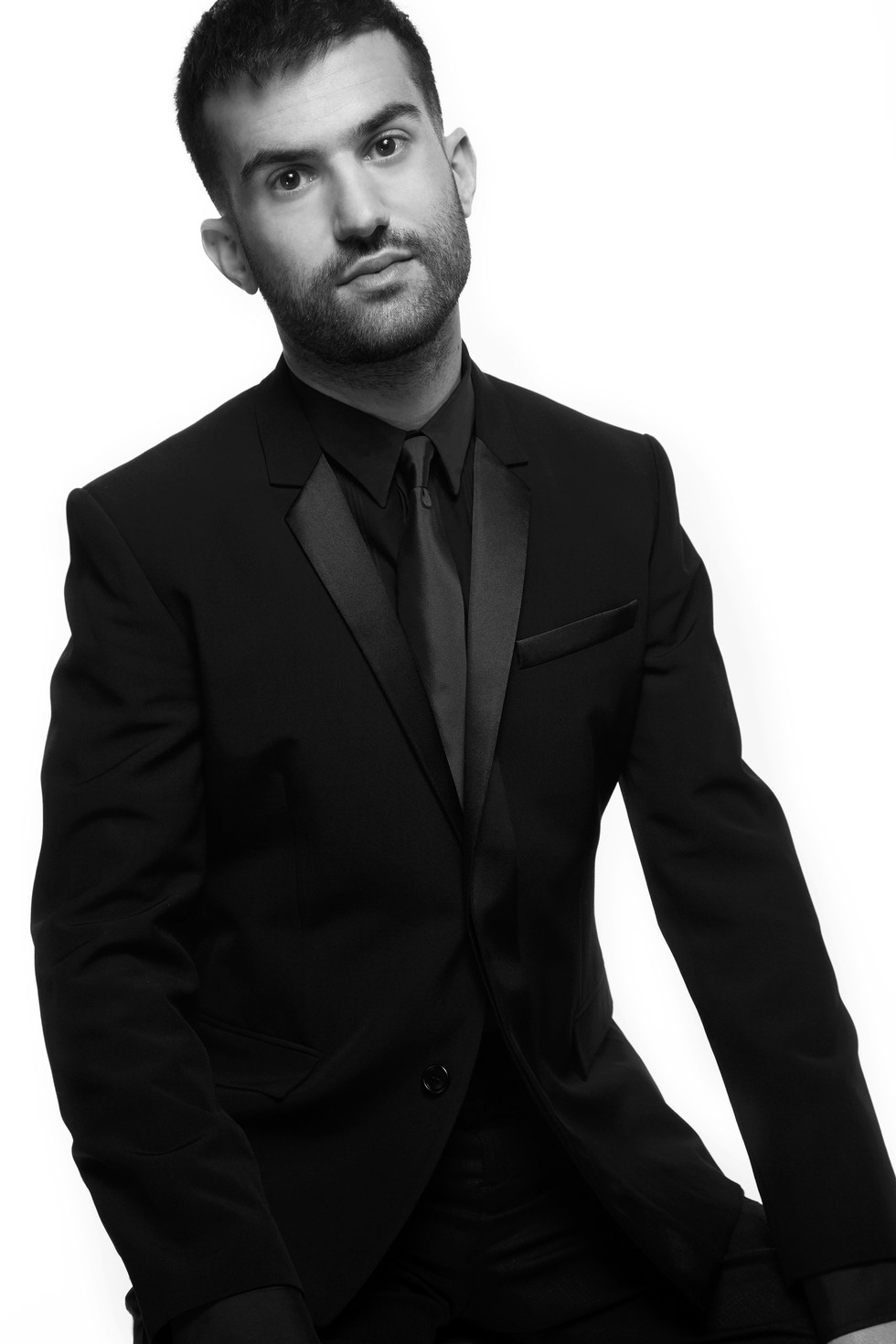 A-Trak wears a jacket by Dior, shirt by Diesel Black Gold, tie by Calvin Klein and pants by Louis Vuitton.

When A-Trak calls from L.A., the DJ/producer is riding high after a sold-out show at New York City's Terminal 5 that he played three days earlier with Cam'ron. The two first teamed up last year to work on what would become their forthcoming EP, Federal Reserve (out sometime this fall via Fool's Gold), and had performed together for the first time in front of a mix of hardcore Dipset fans and equally passionate dance music heads.

"He was like, 'Man, I came out there and saw you DJing and you was up on your tippy-toes!' He used the word 'tippy-toes!'" A-Trak, born Alain Macklovitch, says of Cam'ron's reaction to seeing him play a set for the first time. "We had connected and got along musically...but he's also been going along with [the project] without fully knowing what I'm about. When he went to the show and saw 3,000 people jumping and knowing all his hit songs and knowing all my music, too, I think it all clicked with him even more. It was like, 'Oh shit. Okay. Let's go.'"

At only 32-years-old, the New York-by-way-of-Montreal producer has an impressive amount of accolades under his belt -- 15-year-old international turntablist champion, touring DJ for Kanye West, co-founder of tastemaking record label Fool's Gold, one-half of wildly popular DJ duo Ducksauce, the only man alive who can actually make a fedora look cool -- but, as his concert with Cam'ron illustrates, above all else, he's a connector.


"I'm known for building bridges, whether between old and new, between being classic and using turntables, scratching and vinyl and playing really new music from new artists," he says. "I'm also building a bridge between hip-hop and electronic music. That's something I've been trying to bridge for a long time."

And, by any measure, he's succeeded. Years before the Black Eyed Peas and David Guetta brought electro-hop to the masses with "I Gotta Feeling" in 2009, A-Trak and Fool's Gold released "Pro Nails," a pulsating party jam from Mackovitch's then-girlfriend Kid Sister featuring a memorable verse from Yeezy (who, as you might have guessed, was tipped off to the track by A-Trak). It sounded like nothing else in hip-hop at the time. That was back in 2007 -- the same year A-Trak and Nick Catchdubs teamed up to form Fool's Gold -- and the track's popularity among folks who read Pitchfork, XXL or both, helped solidify the nascent label's place at the head of the table when it came to the rapidly growing (and frequently converging) underground hip-hop and electronic scenes.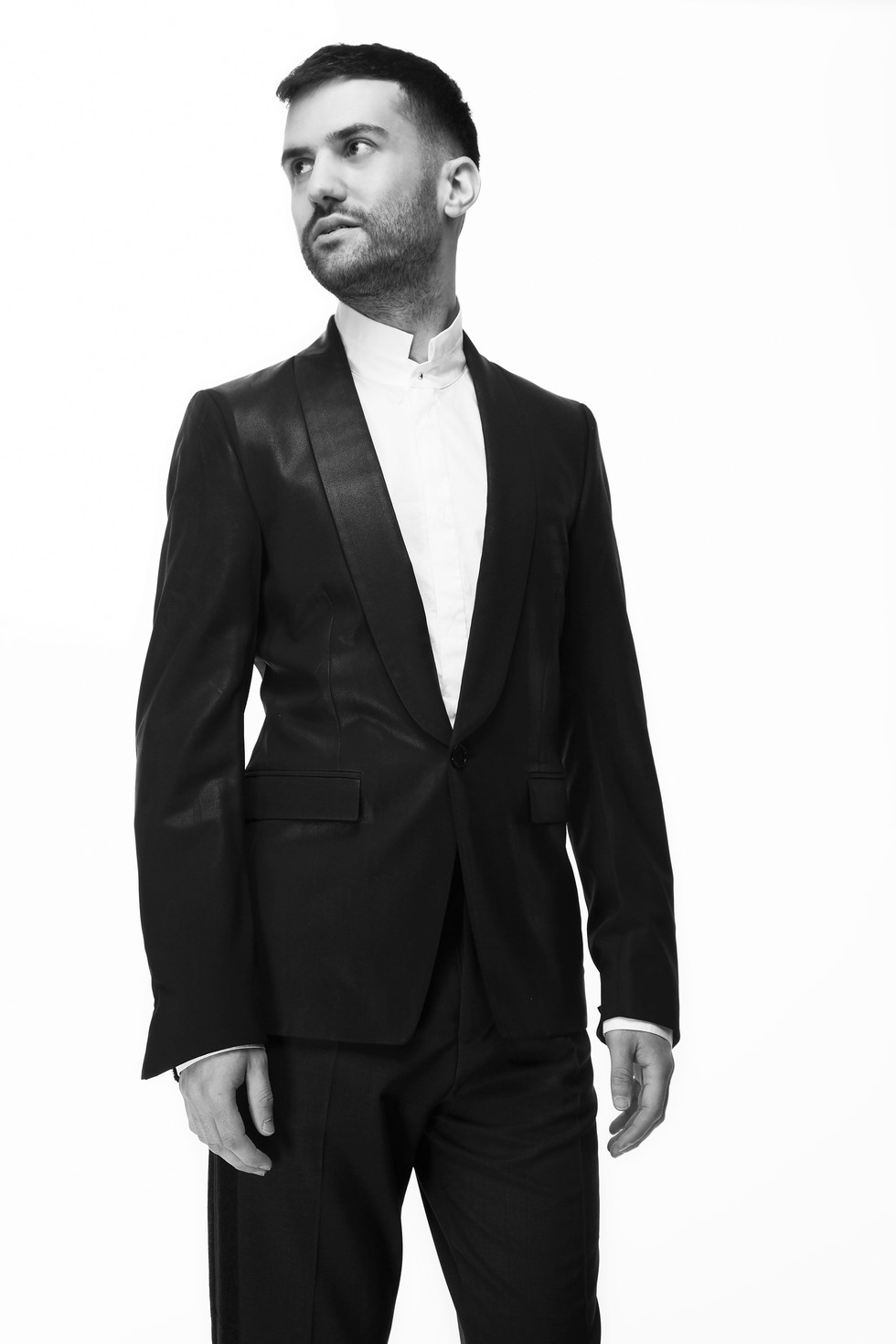 A-Trak wears a jacket and shirt by Dior and pants by Louis Vuitton.
From talking to A-Trak and his crew or by attending one of Fool's Gold's famously wild parties, you get the sense that the label is truly a "friends-and-family" affair. Not only are there actual familial connections -- Kid Sister is the, well, kid sister of Flosstradamus member J2K while Chromeo frontman Dave1 is Macklovitch's older brother -- but there's also a synergy that flows between disparate acts that now include everyone from Danny Brown to RL Grime, Kid Cudi to Kavinsky.

Of course the through line connecting all of these artists is, in no small part, A-Trak himself, whose own music often personifies the label, oscillating such as it does between throbbing, glitch-house bangers like his 2012 track with Tommy Trash "Tuna Melt" and kinetic, autotune-laced rap tracks like "100 Bottles," a song from the producer's EP with Lex Luger, Low Pros, featuring Houston-based, cool kid MC Travi$ Scott.
"There are certain producers, artists and DJs that are known for only one thing, which is probably easiest at times. I probably make things too complicated for myself," Macklovitch says with a laugh.

The range of music he cranks out often results in critics labeling him under another catch-all umbrella -- EDM -- but A-Trak doesn't seem to mind. "Ultimately I play [EDM] music during my sets so I'll take the tag but I don't want to limit myself to that," he says. "Like the case with a lot of genre names, there's this funny thing where some journalist uses a name and suddenly everyone in the scene is like, 'What's [EDM]?' I'll make fun of the name sometimes because electronic music and dance music have been happening for a really long time...but in the bigger picture or when I'm speaking to the press, I think it's too nitpicky to try to make huge distinctions because EDM is really just a catch-all for any electronic music."

But regardless of whether music bloggers want to lump A-Trak in with EDM or not, it's clear that the producer has enough influence to define himself however he wants. And, most of the time, you can find that definition on his Twitter bio. As of right now, it mixes A-Trak's off-beat humor and Canadian humility and simply reads "A-Trak: that DJ wiki wiki scratchy dude."
Styled by Timothy Reukauf

Grooming by Marcel Dagenais at LVA Artists for Evo Hair Care

Photo assistant: Sunny Facer
MORE OF THE MOST POWERFUL DJs IN THE MUSIC BUSINESS