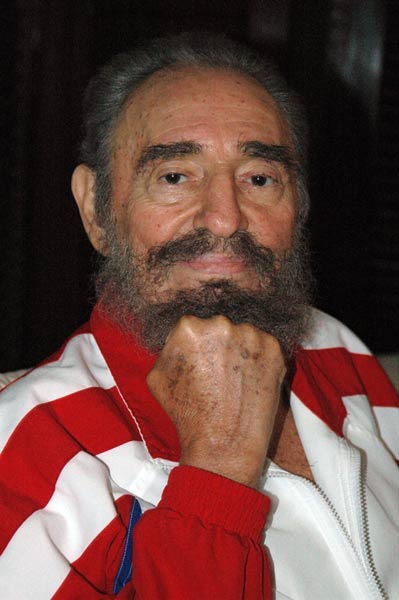 After seeing
this photo
of Fidel Castro with Pope Francis and noticing that the retired Cuban president didn't even bother dressing up (or, okay, wearing one of his military uniforms) to meet His Holiness, we realized that Castro's streetwear fuccboi fashion has been going on for years.
According to Slate
, Castro has worn his trackies at meetings with the likes of Russia's
Vladimir Putin
, France's
Francois Hollande
and
Pope Benedict XVI
-- a trend he first started embracing post-intestinal surgery in 2006, which makes him a trendsetting hypebeast style icon if there ever was one.
And while Slate chalks up his comfy-casual sportswear look to political power plays and/or his anti-bourgeois, suit-and-tie stance, we like to think of Fidel as a keen Karmaloop follower of street-meets-sportswear revolutionaries. Think there's a Supreme drawstring somewhere in his closet? Let's hope so, but for now you can just check out a rough timeline of his dopest looks below.
2007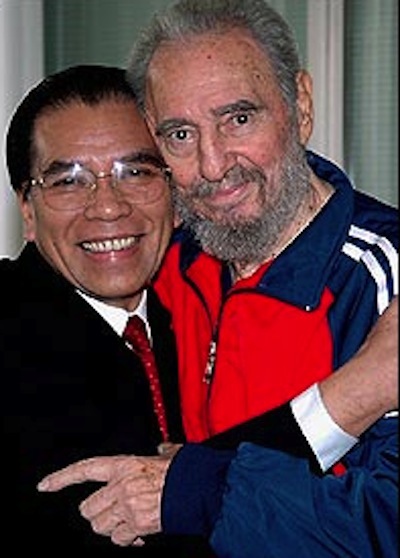 photo via AP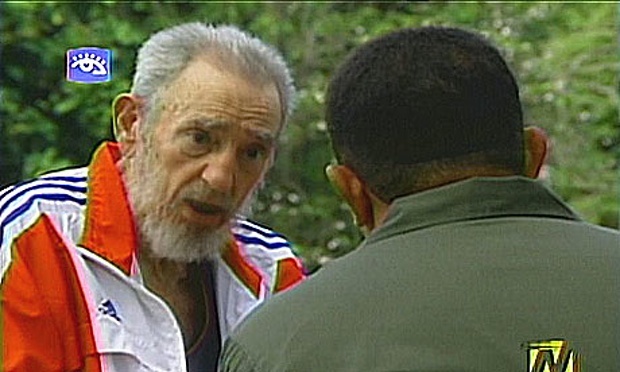 photo via Getty
In his
first appearance
post-surgery, we see Fidel bro-ing out with his buddy Nong Duc Manh aka head of the Vietnamese Communist Party. Sporting a indeterminable brand along with a sly smirk, Castro must know his Cuban flag-colored get-up is fresh AF. So much so that he wears a similar Adidas jacket later that year for his meeting with Venezuela's Hugo Chavez.
2010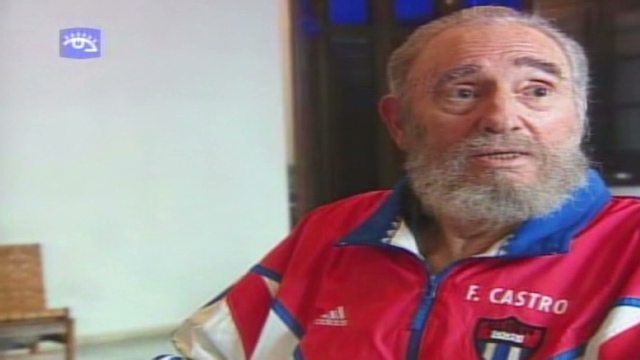 photo via Cuban TV
After a brief stint in revolutionary olive garb, Castro comes back to his senses and slips back into his comfy trackies, as evidenced by a clip broadcast on Cuban TV
clarifying comments
to
The Atlantic
re: communism. Here we see Castro sporting the very first of a long line of
customized
Adidas track jackets with his name on the lapel, though still in the colors of the Cuban flag. Equally as vivid as last season's, if you ask us.
2012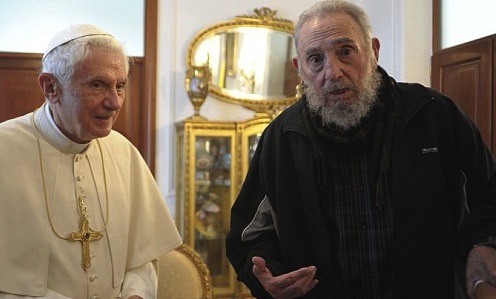 photo via Reuters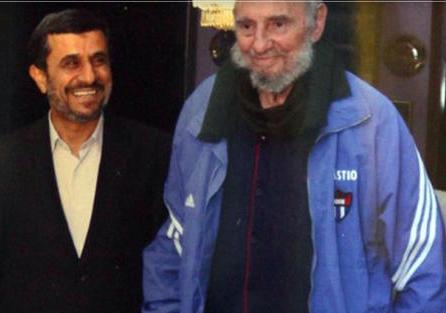 photo via AP
2012 was the year of scruffy, relatively muted streetlooks for Fidel with a slightly off-brand golfing jacket for his meeting with Pope Francis' predecessor Benedict XVI. And though he makes a style recovery by briefly returning to the track jacket, his style has become markedly softer -- a step away from the vibrant Cuban-colored collection he previously sported. However, he makes up for the tonal tone-down with quirky styling choices like mismatching a cowl-y fleece with a Castro x Adidas collab jacket for a meeting with Iranian President Mahmoud Ahmadinejad.
2013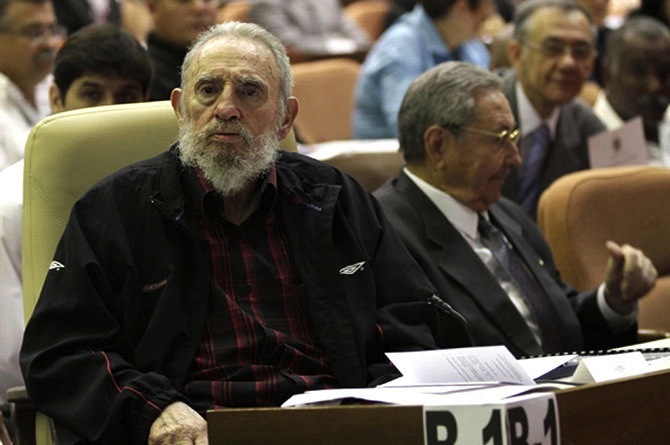 photo via Reuters
A lean year for Castro style sightings, 2013 did manage to see Fidel showing up for the opening session of Cuba's National Assembly of People's Power sporting a chic black Umbro track jacket atop a matching red-black plaid button-up. Yeah boi.
2014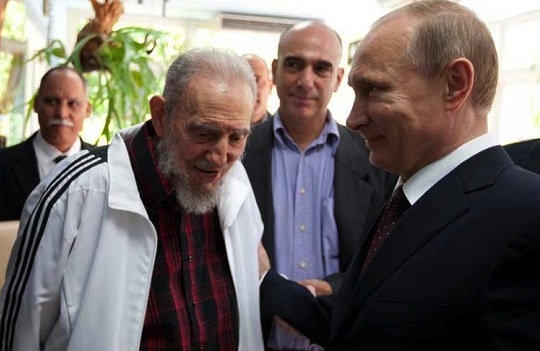 photo via AP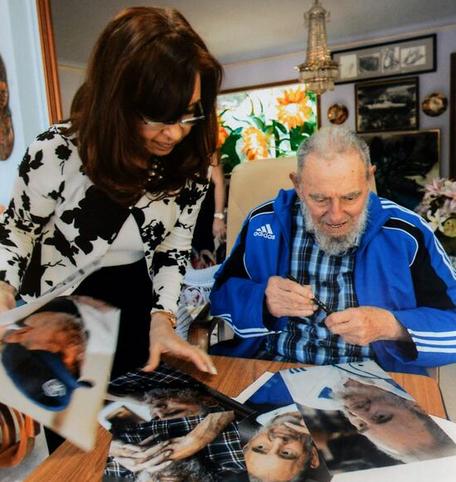 photo via Twitter
Here we see Fidel really stanning the plaid + trackie combo, though we're a little skeptical about his ability to match, as proven by a white jacket and red & black shirt look he sported while meeting Russia's Vladimir Putin. 
Thankfully though, we see him recover from this snafu with his blue-black outfit for a meeting with Argentina's Cristina Kirchner in which he autographs several photos of himself.
2015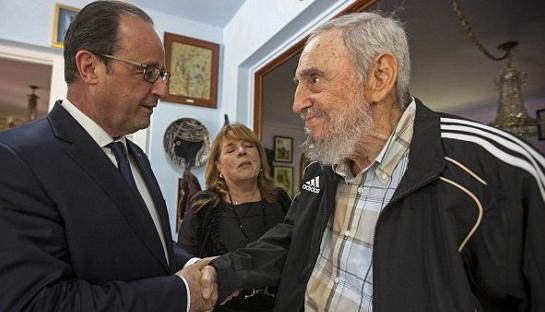 photo via AP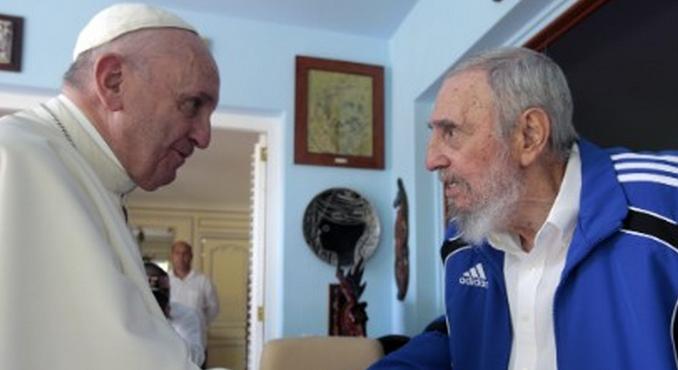 photo via AP
2015 was the year that solidified Fidel as Adidas fam 4-lyfe, as evidenced by his (almost) decade of Adidas looks plus his inability to rock anything else during dignitary meetings with the likes of Pope Francis and France's Francois Hollande. Looking good, gramps. 🙏
[
h/t
Slate
]