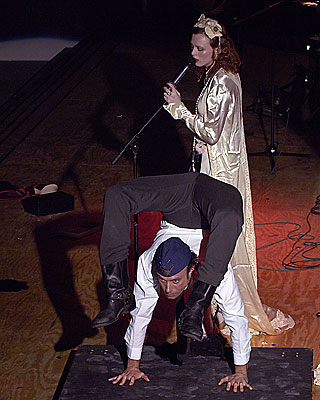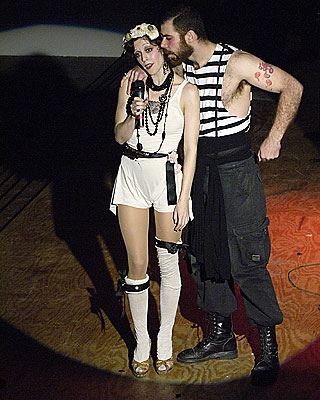 Wow. what a busy week. The madness began on Sunday night at The Box, where we celebrated our coverboy Rufus Wainwright's new CD with a performance and party. It's all been feeling very cabaret lately -- The Box decor, Rufus crooning at the piano... PAPER girlfriend Sarah Flicker stopped by and just aesthetically fit into that joint. She was all jittery because her Citizens Band would be performing Tuesday (last night) at the Highline Ballroom. I guess Sarah was nervous because it was her first time on a trapeze since giving birth to her baby girl Arrow a couple of months ago.
Last night we went to see the band and they were fantastic. Hormones were raging with two pregger performers: Jorjee, who is ready to pop this week, and Karen Elson, who disguised her big belly well (she's due in August). Sarah was fantabulous and looked amazing. Actually, I was also blown away by Karen's voice. This girl has been practicing. I see a big musical future for her for sure. But the mindbender was definitely Angela McClusky, whose deep husky, soulful voice gave me goosebumps.The audience was fashioned out for sure. We sat next to Anna Sui, who told me she's leaving for Thailand this week and Paul Cavaco (creative director of Allure). Bruce Weber was at the next table as well and supposedly Italian Vogue was there shooting them. We went with our friend Sarah, who has the great shop Colette in Paris. Colette has turned ten years old so PAPER is giving a little luncheon today to celebrate. Sarah and her mum (Colette) are in town to celebrate with us.
We then skipped over to see our friends China Forbes and Thomas Lauderdale from Pink Martini who are performing tonight at Carnegie Hall with their whole crew. China and Thomas are old pals who live in Portland and are now touring for their new CD called Hey Eugene! (one of my favorite PM songs). It was so fun to see them. They came and hung out at our office all day. Tonight should be fabulous. Between the Box, Citizens Band, Rufus and Pink Martini, i feel like i am in a musical cabaret time warp. But it's FUN!