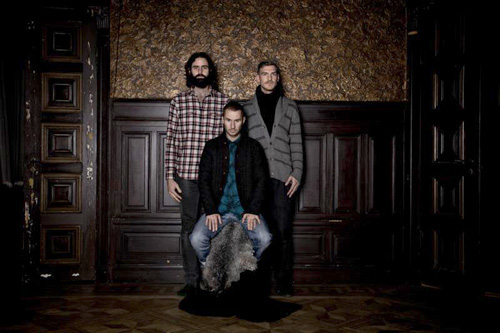 Slick production, melodious tracks and a Grammy or two may not be a formula for instant success, but it sure as hell doesn't hurt. Sleeping on your laurels, however? Ouch. Not content with simply filling dance floors, bedrooms, and Gossip Girl episodes with their brooding, hook-heavy synth pop, Miike Snow are primed and ready to take over with their first full headlining North American tour. I snagged a short n' sweet interview with singer/songwriter Andrew Wyatt in the hopes of shedding some light onto the mysterious machine that is Miike Snow.
Explain your name. Who is this Miike Snow person?
He was actually an assistant engineer at a recording studio in L.A. that we liked, so we named the band after him. The spelling of the name is an homage to a Japanese horror film director.
Interesting. So where do you live?
I live in NYC. The other two guys live in Stockholm.
This is your third U.S tour, and your first as the headlining act. Are you taking any bands along with you?
Yeah, we have a guy named Jack Penate opening for us. He's actually really big in the UK. We think he's pretty cool.
Having a strong background as a producer, did you find it weird being onstage instead of behind the scenes?
Well, all of us were producing other people's records before we did this. We were also all in bands before being in production, and then we just all got sidetracked doing records for other people.
So no practicing that fancy frontman swagger?
Not really, no. (Laughs) I was practicing nervousness in front of the mirror.
You're melding the sounds of pop-driven Sweden and gloomy New York: how do you find musical common ground?
I don't know, we just sort of do what we do. Even having spoken about it a lot, we still don't really know how it all comes about. I guess the "what" is easier to talk about than the "how". No one really knows how music gets made, ultimately, and that's the cool thing about it.
Would you rather appeal to the dancing glowstick crowd or the hopelessly depressed?
I think you can appeal to both. I think the live shows are the time for the glowsticks, and listening to the album is the time for sitting at home crying your fuckin' eyes out.
Do you have a new music video in the works? Any dream director collaborations in mind?
Well, funny thing is we're working with Rob Zombie now because he contacted us to do a remix for him. Hopefully he can direct his own music video and it will be a bloodbath.
Last question: If you could work with any musical icon, alive or dead, who would it be?
Charles Mingus.
Miike Snow's self-titled debut album is available now via Downtown Records. Click here for their tour schedule.