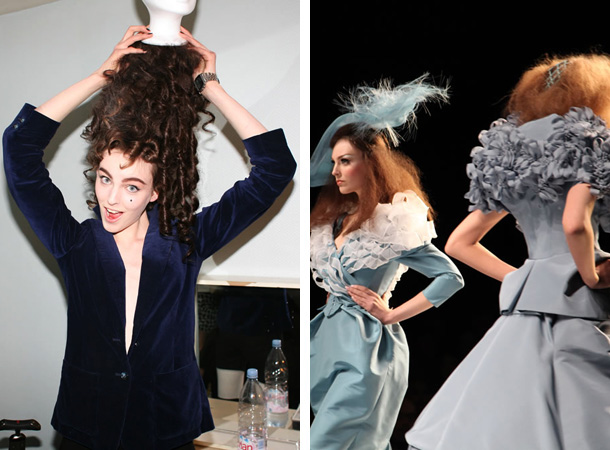 After a stunning New York debut this past summer at the exclusive Prada resort show, Myf Shepherd went on to gain "top-ten newcomer" status on both style.com and models.com subsequent to walking for the illustrious likes of Marc Jacobs, Balenciaga, Chanel, Nina Ricci, Miu Miu, Jeremy Scott, Fendi, Gucci and Jil Sander during the Prêt-Ã -Porter shows. Back in the city after her first dose of modeling Haute Couture last week, I sat down with 17-year-old Australian sensation (and current face of Miu Miu and Superfine) to reflect on her recent couture work in Paris and share with us some of her newfound haunts around Gotham.
How do the more extensive couture fittings vary from their standard ready-to-wear counterparts?
The ones that I did were, for the most part, actually really well organized. I think that as even more thought and handiwork has gone into creating each piece, they already know exactly which girl they want for each dress.
Do you personally have a specific "couture walk" on the runway? Or do you maintain the same for both ready-to-wear and couture?
In fact I didn't realize until I had arrived at Dior (my first couture show) that the walk was supposed to be different. I walked my standard Dior-esque strut and they looked at me as though I was crazy and said: "SLOW DOWN! This is couture!"
Any amusing couture week stories from this past week in Paris?
My mum thought it was hilarious when I told her about my sore tongue that I endured from eating too many figs at Chanel. She said she had no sympathy for someone who indulged enough to eat that many figs!
HERE ARE MYF'S PICKS WHEN IT COMES TO...
Art: I'm an adamant supporter of street art, so I loved the massive Banksy rats while they lasted and his animal rights animatronics in West Village. There are also great stencils and murals all over downtown.
Place to be inspired: To be completely honest... I always feel inspired when I ride the subway. There are so many interesting people; Union Square Station always has great buskers and there often is really interesting graffiti.
Part of town: East & West Villages and Williamsburg (luckily all on the L line)!
Restaurant: Wild Ginger in SoHo. Be sure to try the satay seitan skewers. Although there are so many great restaurants around the city that I'm looking forward to trying.
Desert: Lula's Sweet Apothecary in the East Village. Ohmywow! I'd like to go there now, please!
Sandwich: The sesame "chicken" wrap from 'sNice. It is to die for.
Music: The Delacorte Theatre in Central Park; I know it's not technically music, but they did do a production of Hair!
Coffee: Abraço in the East Village on account of the fact that they make "flat whites" (it's an Australian thing).
Dress: Beacon's Closet in Williamsburg has fabulous old costume dresses; they have something from every era and for every possible type of theme party.
Accessory: Your best accessory is a smile! I actually only have two accessories that I wear routinely -- my dad's old watch and a bat-girl necklace.
Fragrance: I don't really wear fragrances... I prefer to smell like my natural self. Naturally, I smell like roses though!
Shoes: I harbour an intense dislike of shoe shopping.
Photos above from The Cobrasnake