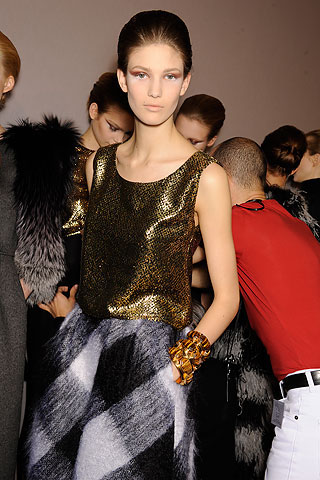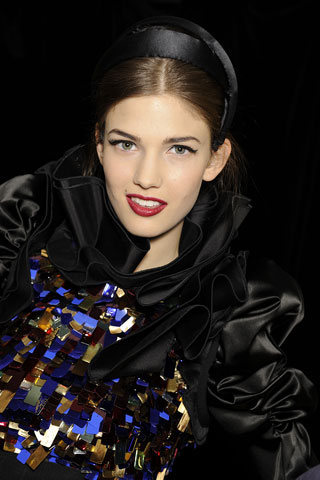 Kendra Spears's glamazon 5'10" frame and Cindy Crawford-esque mole has been on nearly every influential casting director's shortlist this Fall 2009. Shortly after Kendra conquered the Milan catwalks (highlights include Prada, Dolce & Gabbana, Gianfranco Ferré, Emilio Pucci and Moschino), I caught up with the all-American beauty for a quick chit-chat just before the Parisian presentations -– and have since spotted her at the likes of Nina Ricci, Lanvin, Loewe, Givenchy, Costume National, Yves Saint Laurent, Giambattista Valli, Chanel and Valentino. At only 20 years old, the model student with a passion for architecture has already completed her studies at Portland State University (after graduating high school early with an associate's degree via a dual-credit program) and is now dedicating herself full-time to modeling: landing the covers of Cover and Amica as well as recent acclaimed editorials in V Magazine, 10 Magazine, Another and Vogue Italia.
What makes you laugh uncontrollably?
When people say funny things without realizing it and my friend Ariel, who could make me crack up in the middle of a funeral!
Do you ever become homesick while traveling? Do you bring any mementos or keepsakes from home with you?
I feel like I'm perpetually a bit homesick, even when I'm "home" in New York. I always have one picture of me and my boyfriend and one of my family.
What is the most stressful aspect of fashion week? And the best part?
Hmm... the most stressful part is not knowing your schedule. It's never certain how late you'll work on a given night; even when you finally do return home, chances are that you may have to head back for a re-fitting or something of that nature. The best part is just hanging out backstage with all your friends.
What are your hobbies or hidden talents that may surprise people?
Design -- not clothing but buildings. I read tons, which could be considered a talent in this industry!
Your recently released Viviane Sassen, Miles Aldridge and Willy Vanderperre editorials have garnered rave reviews. How do you manage to communicate the photographer's vision through the images?
Well that's hard to say exactly because every photographer works so differently. With Miles, he would give me different scenarios –- like a cute boy just walked in, try to get his attention! While Viviane essentially let me do my thing and suggested ideas along the way.
Who are some of your fictional heroes?
I just finished East of Eden by John Steinbeck wherein there is a character named Sam Hamilton that everyone loved and admired long after his death. He wasn't necessarily a hero, but he was a great man.
What are your last thoughts prior to stepping out onto the runway?
I think to myself: "please don't fall!" and "let me look as beautiful as these clothes that I'm wearing!"
Do you believe in luck?
I used to... but now I know that absolutely everything happens for a reason.
What have you learned about yourself from modeling?
I know how much I can endure, when I need a break, and that food is very important to my happiness!
What is your favorite meal of the day? How would you rate your cooking ability?
Hands down, breakfast. It's the meal that starts your day. I'm a good cook... I think! Before I moved here I often baked and made big meals for my family. Unfortunately it's all about practice and it is hard to cook when I don't even have time to do my laundry.
Are there any organizations or foundations that are particularly close to your heart?
St. Jude Children's Research Hospital. When I did the Ford Supermodel of the World contest last January, we took two kids receiving treatment there to Build-A-Bear Workshop. It was an incredible experience to talk with them and their families! It's such an amazing institution.
Who do you trust more than anyone else?
My boyfriend, Aaron
Do you ascribe to a particular life philosophy?
Not to take things too seriously.
Pictured above: Kendra backstage Giambattista Valli and at Dolce & Gabbana