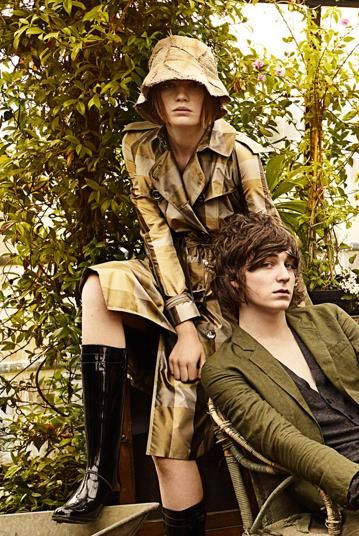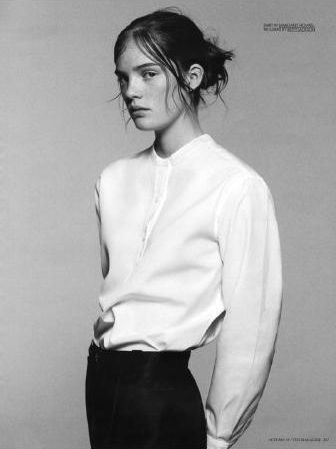 Last night I had the distinct delight to catch up with chirpy and personable "Gingerbrit" Alexina Graham between the shows. The charming Nottingham native -– although fresh to the fashion scene –- has already landed a contract with Maybelline and in the acclaimed Mario Testino-lensed Burberry Spring 2009 campaign alongside Lily Donaldson, Eden Clarke, Emily Hope and Richard Wyndham (shot at Petersham Nurseries outside London and designed by Burberry creative director Christopher Bailey). I was transfixed by the exuberant and elegant redhead's delicate yet fiery British charm when she gave us the low-down on her colored-tight craze, burger-making aptitude and notorious backstage dancing.
What makes you laugh uncontrollably?
My own jokes! I'm a sarcastic joke teller and I think that all my jokes are funny: some even have me cracking up on the floor with tears rolling down my cheeks! If you ask me, this is the best way to laugh.
When did you first know that you wanted to be a model?
Since becoming one of the winners of the Ford Supermodel of the World competition. Beforehand people told me that I could be a model, but I never really thought much of going ahead with it. I suppose I didn't see myself as model material... but thought that I may as well give it a go. After all, what have i got to lose? Then once I had a taste of the industry I immediately fell in LOVE! Although I would still like to go back to school in a few years to train to become a midwife.
Do you ever become homesick while traveling? Do you bring any mementos or keepsakes from home with you?
I would say that I get homesick about once a week. I have a small family album that my grandparents made me before I left for the Big Apple which I carry along with me on my travels. I also wear a sentimental ring that means a lot to me and reminds me of home; it is inscribed with "FAITH.LOVE.HOPE."
Any fun fashweek anecdotes or stories thus far?
My roommate (top model Nika Lauraitis –- who PAPER fashion editor Christine de Lassus proclaimed as "so charismatic!" during the William Rast show Monday evening) and I try to make Fashion Week as fun as possible. This may entail, say, randomly dancing backstage. If industry people are miserable it's my goal to cheer them up; I find anything funny... even if it isn't really that entertaining at all. For example, while we were being photographed backstage I noticed that the photographer's camera lense was cracked. Let's just say that I was laughing so uncontrollably that I could hardly have the photo taken! It's those kind of stupid memories that you cherish forever...
What is the most stressful aspect of Fashion Week? And the best part?
For me the most stressful part is when you're under enormous pressure to get to a casting on time even with the stacks of castings scheduled in a day! I like to be on time for everything, so when I am running behind I get very agitated! As for my favorite part: I love how during Fashion Week you can be transformed with hair and makeup to the extent of not even recognizing yourself. I also crave the adrenaline rush of being on the catwalk and showing off the designers' creations!
What are your hobbies or otherwise hidden talents that may surprise people?
I love to dance, sing and act! Dancing and music comprise the main things in my life that truly make me who I am. I even attended ballet, hip-hop and R&B classes for eight years. In terms of hobbies, I annually took part in my local pantomine/play! I would play the male role every year (a prince, sailor, and everything in between) but I still loved every moment of it. Theater is much like the catwalk: the audience is watching, there's a definite adrenaline rush and you never want it to be over.
How would you describe your personal style?
My personal style is cool but loud. I love black. I am nearly always to be found in a little black dress; except I jazz it up with colored tights! I have every hue you can imagine.
What are your last thoughts prior to stepping out onto the runway?
"Show off these clothes like you have never showed off any garment before!" And, of course, "ROCK THAT RUNWAY BABY!"
Which (current or former) model do you think has the fiercest runway strut?
For me it has to be Hyoni Kang. I love her on the runway and she surely has a fab walk.
What have you learned about yourself from working in this industry?

I have learned that I can be patient when I need to be, as I use to hate waiting around for things; however with castings and flights I've since gotten used to it. Also that I can be independent when duty calls. I never would have thought that I could travel to different countries on my own without a family member!
What is your favorite meal of the day? How would you rate your cooking ability?
My favorite is dinnertime. I love to cook and brainstorm new dishes to make. I get that trait from my parents, who both used to work in the catering business. Out of 10? I would rate myself as a 7 or 8. I cook for my roommates Kendra Spears and Nika all of the time; one of my specialties are homemade beef burgers.
What are your absolute favorite fashion magazines?
Vogue, i-D and Vanity Fair
...and designers?
Vivienne Westwood, Christopher Bailey (Burberry), Karen Millen, and Karl Lagerfeld (Chanel)
What is your favorite fairy tale, and why?
Sleeping Beauty! What can I say... I adore how her prince eventually comes to rescue her and they get married –- living happily ever after. I imagine that this secretly about what most girls fantasize: to be found by their beloved and live a fabulous life together.
Which words/phrases do you most frequently (over)use?
I always say "it's all good" and "mate"!
What do you consider to be your greatest achievement thus far?
I'd say that having the opportunity at the start of my career to work with the Maybelline team and Burberry. I have only been modelling for less then a year and to think about what I have achieved in that short of a time span even makes me kind of proud of myself.
Pictured above, Alexina in the Burberry SS 2009 campaign and i-D fashion shoot