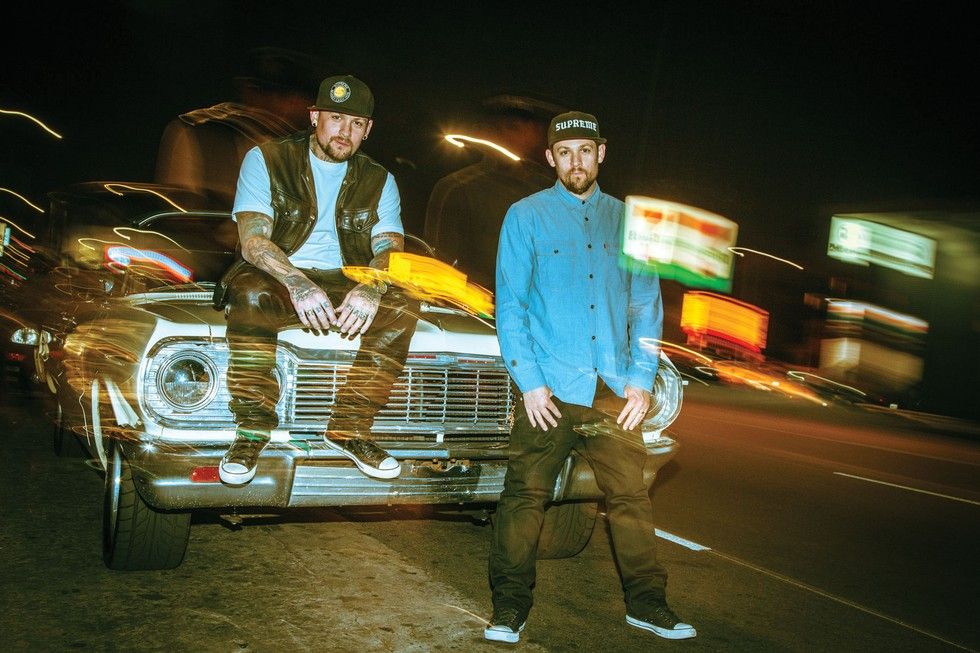 (L-R) Benji and Joel Madden
Benji and Joel Madden roll with the punches and, in this case, those punches involve not getting the sushi they've been planning on eating all day long. Outside the hip sushi eatery Sugarfish on La Brea Avenue, the Madden brothers learn that their dining companion/reporter doesn't eat fish. "No way, we're eating somewhere else," Benji says with conviction. "We're not going to eat somewhere you can't eat. No chance."

That's when the identical twins face one another, strike their signature cross-armed pose and brainstorm restaurant ideas. Eventually, they decide on a nearby favorite named Mercado. Their insistence feels much like older brothers making sure their kid sister gets enough to eat.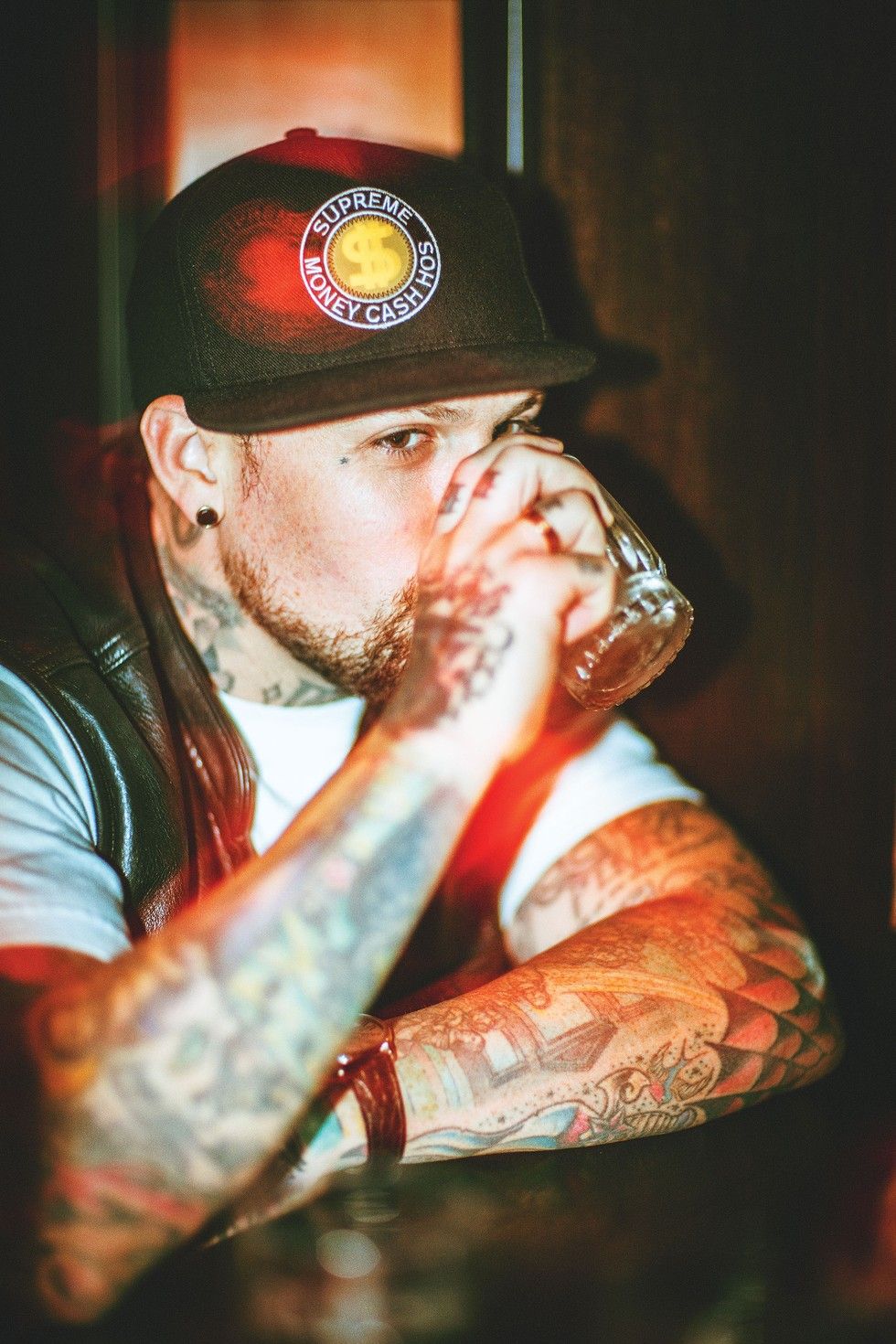 Benji.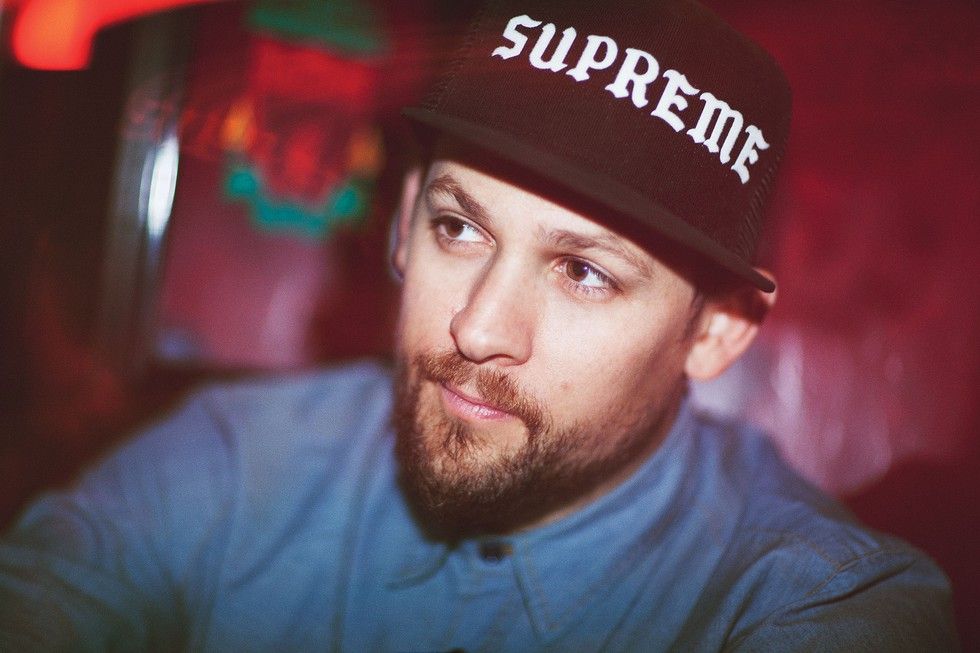 Joel.
Over plates of sautéed shrimp, kale salad, guacamole, queso and grilled sweet corn, the brothers begin gushing about their newest project, titled the Madden Brothers, and the first record the duo will release as something other than the noughties pop-punk band Good Charlotte.
"This is the record we'll be remembered for," Joel says with dead-set confidence. They both cite all kinds of unexpected influences -- from Crosby, Stills & Nash to the Eagles to Phil Spector -- for the album, which they recorded in their Hollywood studio. Two-tracks were cowritten by their longtime friend Pharrell. "It honestly took a year and a half just to figure out the sound," says Benji.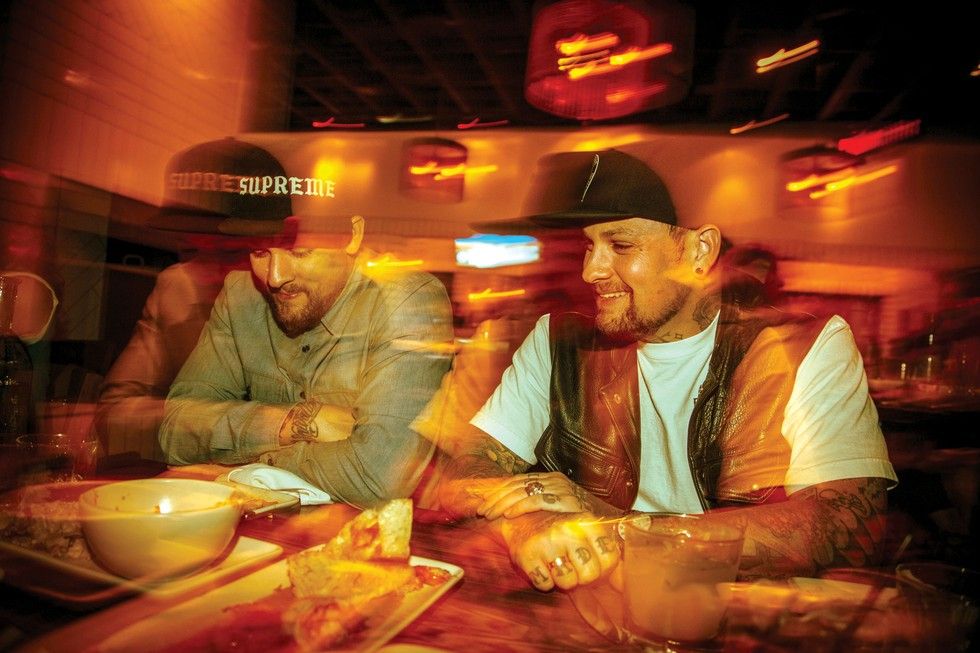 After dinner, we relocate up near the Sunset Strip to a cozy British pub named the Pikey. There, the Maddens greet the owner, famed hotelier Sean MacPherson, with a hug, and we're ushered to a prime booth in the back of the main room, away from the hubbub at the bar. Once settled in, the brothers talk with excitement about the joys of adulthood that come with being in your mid-thirties. "You get to actually enjoy things," Joel says, emphasizing how productive their days feel and how nice it is to tuck his kids in at night. And with that, the Maddens tactfully bow out well before 11 p.m. and climb back into Benji's lifted Chevy Impala, riding off into the L.A. night.