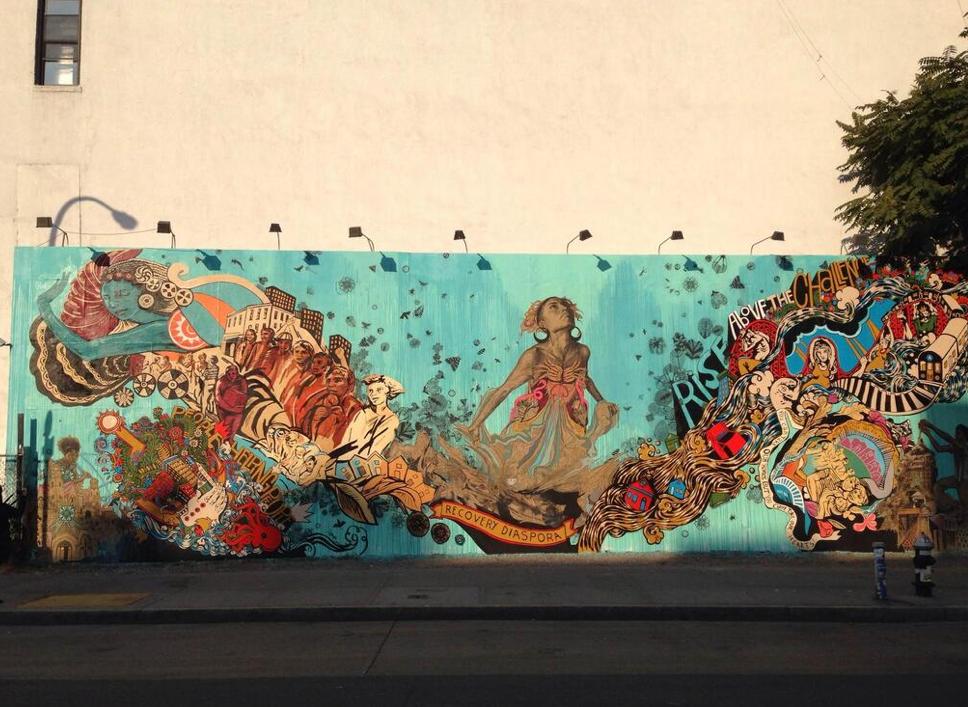 [Photo via
Twitter
]
One year after Hurricane Sandy ravaged parts of the East Coast, street artist
Swoon
has completed a new mural on the Bowery/Houston graffiti wall inspired by Sandy and the ongoing recovery efforts. The Brooklyn-based artist, notable not only for her work but also for being one of the only major female players in a field dominated by male artists like Shepard Fairey, Futura, and, of course, Banksy, collaborated on the project with a group of 40 teenagers hailing from neighborhoods affected by the storm. The art work is one of four murals initiated by
Groundswell
, an organization dedicated to "bring[ing] together artists, youth, and community organizations to use art as a tool for social change," according to
their site
, and was
unveiled yesterday
.
At the center of the mural is Swoon's depiction of the
Greek goddess Thalassa
, one of the artist's most recognizable wheatpaste works, rising from a wave. Flanking the goddess are images of people -- families affected by Sandy, volunteers participating in relief efforts -- along with buildings, sea creatures, the "A" train and text that reads "Rise Above the Challenge", "People Helping People" and "You Can Take Our Homes But You Can't Take Our Hearts."
No word on how long Swoon's mural will be up there but we've heard from Futura that he'll be bringing his art to the iconic wall in early 2014.