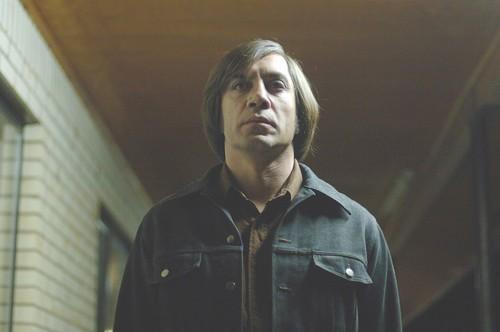 Even though I don't get to see or read as much as I'd like to these days -- I do try to keep up with as many forms of media as I can, simultaneously. And it makes for a great collage of stuff in rundown form.
As a member of the Writers Guild, I get lots of screeners around Oscar time -- and because I have a small child at home and rarely get out to the movie theater, this is very convenient. The screener I most recently watched (and the film I had been putting off seeing because I'm a wuss about violence) is No Country for Old Men. Here's what I have to say about that: OK, Coens. You win. Although I did cover my eyes through a good bit of the violence, I was otherwise stunned into submission by the narrative scope, the performances, a brilliant adaptation (book to film, always tough), and eerie beauty.
I've been a subscriber to New York magazine since before I moved to New York over 10 years ago. This past week's issue features naked Lindsay Lohan on the cover, posing as Marilyn Monroe. As it happens, PAPER has Lindsay on the cover of our March issue, and so seeing her on the cover is a little bittersweet (in a scooped, preemptive-feeling kind of way), but inside the issue is a really smart, well-written piece about Heath Ledger ("Untitled Heath Ledger Project" by Chris Norris) -- who we thought he was and who he really was (as much as the writer or anyone who does some research can discern). It handles nicely the tangible intangibility of celebrity, while addressing the appeal of a Hollywood actor with his own character and sense of self.
I just finished a brilliant novel by Korean American author Chang Rae Lee, Aloft -- I'd not read Lee before (Gesture Life, Native Speaker), but this novel, as filmmaker and playwright Neil LaBute once said to me of a short story of mine I'd had him read, "is so good I wish I'd written it myself." Aloft is about a middle-aged, semi-retired white fellow who somewhat impassively inherited the family's Long Island landscaping business; whose late wife, a Korean woman who suffered many and nuanced disorders, drowned in their pool (accident or not, not completely clear); with two very different grown kids, and a hot Puerto Rican ex-girlfriend. The characters are brilliant, but the writing is achingly perfect. It's the kind of writing where you can almost feel the shape of the letters in your mouth.
I can't lie, I enjoy a little Regis & Kelly at the gym in the morning. The two have a great rapport, the show moves at a steady-clip, their guests are almost always on point, and I have to say, though sometimes annoyingly perky, Kelly is kind of hot and actually seems genuinely interested and curious with her line of questioning.