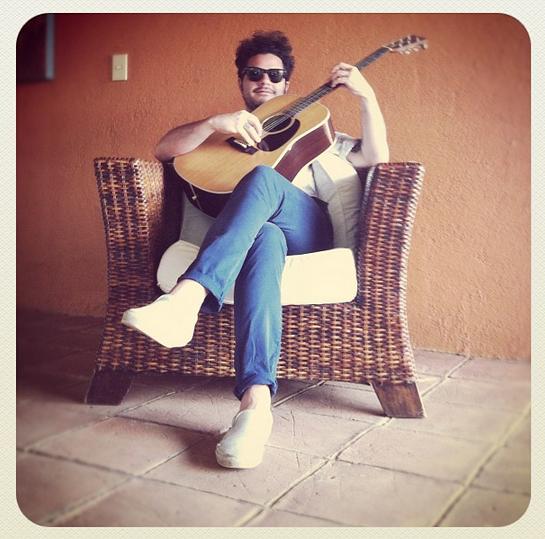 Each week in our new column, "No Sleep Til...," we'll be talking to cool kids around the globe, asking them to fill us in about the bands, DJs, music venues and night spots they and their friends are obsessing over. Next time you visit their home city, leave your Fodor's and Lonely Planet guides behind and go party like a local instead.
Name?
Diego Solórzano
Age?
29
Where do you live?
Mexico City

What do you do there?
I'm a musician in the band
Rey Pila
. [
Ed note: You can snag Rey Pila's first single HERE
and catch them live in New York on November 27 at Bowery Electric.
]

What Mexican bands or DJs are you currently obsessed with and think we should know about?
Joe Volume, Los Fancy Free, Los Infierno, De Nalgas, Titán, Disco Ruido
and
Rebolledo
. My first band (Los Dynamite) was a bit punk so we played in a lot of punk venues around the city so that's how I got to meet Joe Volume. He's a very talented musician that just moved to L.A. Los Infierno and De Nalgas are a couple of local punk bands that I met the same way I met Joe. Los Fancy Free is an awesome New Wave/Pop/Punk band that I met through the owner of a cool indie record label called Noiselab. Titán is an OG band in Mexico, they released only one album a while ago but the songs still sound new and fresh. I haven't heard another band like that anywhere in the world. Disco Ruido and Rebolledo are two of the best dance acts in Mexico, people love them. They can bring the party.
What do these bands sound like?
Joe Volume
sounds like
Wire
on acid.
Los Fancy Free
is more all over the place but in a good way.
Titán
sounds like early Beck.
Los Infierno
are as classic as it gets with punk.
Rebolledo
is signed to Kompakt, the German techno label that has a very cool selection of artists, so the sound is in the same vein as The Field and Matias Aguayo.
Disco Ruido
is a good balance between pop music and dance music.
How would you describe your own music? What is the scene like for bands in Mexico City?
It's always very hard to describe the type of music you make because you always end up having a completely different angle on what people say about it. My mother and father always say that I make alternative music and I've learned to like that term because it is very ambiguous. I try to make music that has a popular vibe with a touch of experimental and New Wave elements.
The music scene in Mexico is really interesting, there's a large amount of punk and goth bands and Depeche Mode, The Misfits and Morrissey are gods in Mexico. There's is also a large variety of pop rock bands and indie bands.
Where are the cool places to see live music in Mexico City?
Mexico City has two very well known clubs for bands to play in,
Imperial
and
Caradura
. Every small/medium band from the city has played there. They're both rock clubs with cool music and cool bands, good vibes. There are also a lot of small bars in the suburbs of the city that are punk as fuck. It's a very large city so sometimes it's hard to get there if you live near downtown because of the traffic but if you play a show there you are guaranteed to have a blast.
The crowd that goes to these type of clubs are basically young people that go out to dance, have a good time and get wasted. The drinking age here is 18 but most clubs let younger kids in, which makes the club experience more interesting and diverse.
Where are the cool areas to hang out in Mexico City?
The cool areas to hang out here are Roma, Condesa, Cuauthemoc, Centro and Coyoacan. These places are where you can bar hop, sightsee, and go to good restaurants all by walking (Mexico City is like L.A. so you mostly need a car to get around). There are a lot of bars in these areas, too. Some of them are trashy, some fancy but most of them are fun.
What's your favorite club in Mexico City?
One of my favorite clubs is called
El Real Underground
. It has three different rooms with different types of music, mainly 80's New Wave, Goth and Punk. The DJ's there have been spinning records at the place for more than 10 years. It's a classic here in Mexico.
What's a bar or nightclub you would NEVER go to in Mexico City?
I'm easy going when it comes to nightlife but if I had to pick a place I would never go to I guess I would have to say any club in Santa Fe. It's really far from where I live and the music sucks -- it's so posh and only has Top 40 stuff.
Check out Diego's music listings:
Rey Pila
-- "Alexander" / "Lady In Red"
<br/><br/></font><div align="left"><font style="font-size: 1.5625em;"><a href="http://www.bungalow.de/losfancyfree/bio.htm">Los Fancy Free</a> -- "Temporary Secretary"</font><br/></div></div><br/> <div style="text-align: center;"></div><br/><font style="font-size: 1.25em;"><a href="https://myspace.com/titantitan">Titán</a> -- "Corazon"<br/><br/> </font><div style="text-align: center;"><font style="font-size: 1.5625em;"></font></div><br/><font style="font-size: 1.25em;"><a href="https://www.facebook.com/losinfierno">Los Infierno</a> -- "Soy el Rock n Roll"</font><br/><br/> <div style="text-align: center;"><br/><br/></div><font style="font-size: 1.5625em;"><a href="https://www.facebook.com/pages/Rebolledo/33562199144">Rebolledo</a> -- "Guerrero"<br/><br/> </font><div style="text-align: center;"><font style="font-size: 1.5625em;"></font></div> <br/><font style="font-size: 1.25em;"><a href="https://www.facebook.com/denalgas">De Nalgas</a> -- "Promesas y Perdones"</font><br/><br/> <div style="text-align: center;"></div> <br/><font style="font-size: 1.25em;"><a href="https://www.facebook.com/discoruido">Disco Ruido</a> -- "Mrs Love"<br/> <br/><br/><font style="font-size: 0.8em;"><i>Check out Diego's nightlife listings:</i></font><br/></font><br/><a href="https://www.facebook.com/pages/El-Imperial/134411983251080">Imperial</a>, Alvaro Obregón 293 esq. Oaxaca, Mexico City  <br/><br/><a href="https://www.facebook.com/caraduramx">Caradura</a>, Nuevo León 73. Colonia Condesa., Mexico City<br/><br/><a href="http://www.theunder.org/under3/index.php">El Real Underground</a>, Monterrey n°80 and Oaxaca 137 Col. Roma, Mexico City<br/><br/><a data-ls-seen="1" href="http://www.papermag.com/2013/05/more_from_our_no_sleep_til_ser.php"><font style="font-size: 1.25em;"><b>More from our 'No Sleep Til...' series including nightlife and music in Paris, Mumbai, Seoul, Bogotá and more!</b></font></a><br/>