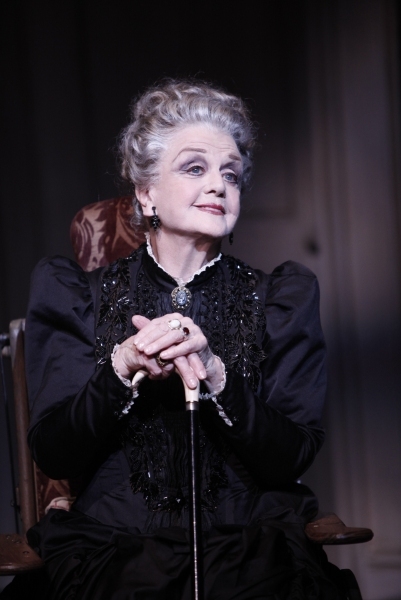 Jesus Christ in a hayloft, if you're up there, I want to come back in my next life as Dame
Angela Lansbury,
preferably in her current
late-period, do-no-wrong stage.
She was eclectic -- sorry,
electric
-- last night onstage at the Walter Kerr for the
Catherine Zeta-Jones
-helmed revival of Sondheim's Scandinavian musical,
A Little Night Music
. Lansbury's Mme. Armfeldt, a salty dowager given to reminiscing on her sweeter, sexier days, could barely get a line out without spontaneous applause and cheering (even when she tripped over one or two of those lines).
A Little Night Music
, see, is all about how far afield sex leads even the wisest and most jaded among us, into which latter camp Mme. Armfeldt now finds herself. Things ain't what they used to be, says the former lover of the Belgian king and countless counts. As she sings:

What once was a rare Champagne is now just an amiable hock,
What once was a villa at least, is digs,
What once was a gown with a train is now just a simple little frock,
What once was a sumptuous feast is figs--no, not even figs--raisins!
Ah, liaisons...
What about that frock, now? In this production, it ain't so little, and it ain't so simple. Set and costume designer
David Farley
has kitted Angie out in a high-necked, turn-of-the-century dress, not couture by any means, but glittering and chic all the same in dusty black. In fact, most of the cast spends the first act in ebony, before switching after intermission to country-proper creams. (Dame Angie accessorizes with a face full of white pancake makeup, a look perfected by Mexican wrestlers and Victorian ghosts.)
If these country looks -- the pinafores, the bustles and frills, the soft cream and even soft black -- look familiar, it may be because they're the vision of the moment at Chanel.
Karl Lagerfeld
took a turn round the barn for his
Spring 2010 collection for the house
, and the results could walk from his hay-strewn Paris catwalk right onto the stage at the Walter Kerr--or those from there onto his. The black-white-and-beige palate, the swinging skirts, the shining brass buttons on military-man Carl-Magnus' jacket--they're all there in Herr Karl's show, too. Frisky servant-wench Petra (
Leigh Ann Larkin
) even, in her 11 o'clock aria "The Miller's Son" looks a little like
 Heidi Mount
in the
Fall Chanel ad campaign
after a good roll in the dirt. (The subject exactly, as it happens, of the song.) Who says Broadway's dying?
Mais non, c'est
on trend--and no one, but
no one
, accuses Der Lagerfeld of being a mere
raisin
.
So Mme. Armfeldt -- is she wrong? She's right about one thing: Things ain't what they used to be. This time around, they're even chicer.