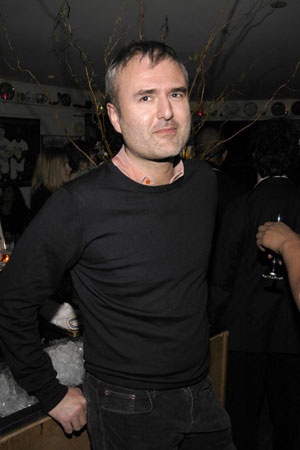 I've never had a personal encounter with Gawker Media's
Nick Denton
, but I'd like to.
I haven't always felt this way. The big, bad Nick Denton of old was a behind-the-scenes publisher, whipping his bloggers into line and revolutionizing the media business with the savvy, snarky stories his various sites hosted. Making fun of the self-righteous media and dumb founded celebrities was his bread and butter - and boy did his sites schmear. Gawker is a guilty pleasure that I can successfully resist most of the time, but once-in-a-while (like every day!) I give in to my better instincts to peruse and peruse and peruse.
So it wasn't until recently that Denton became a media staple himself with profiles in the
New Yorker
, the
AtlanticWire
and the
Observer
. Had the branding of Nick Denton begun? Here he is on Facebook liking the Eminem Chrysler ad that ran during the Superbowl (even as Gawker made fun of it). Is this the kinder, gentler, cuddly version of the ogre of the Internet? Is an appearance on the
Daily Show
on the horizon? Chances are that Denton's emergence in the mediasphere he loves to hate has something to do with the Gawker's redesign. Common sense tells you not to fix what ain't broke, but Denton is having none of that. Feeling the blog format didn't give Gawker the gravitas he thinks it deserves, he's made it look more like a news site, something like what the old media people do when they go digital. Given his track record, he'll probably pull it off, but diehard Gawker fans that I know are all complaining.
Even so, Denton definitely has a future as a media pundit. Take this quote he gave in the
AtlanticWire
piece when he's asked what irritates him about the media. "Fake news. I don't mean fake news in the Fox News sense. I mean the fake news that clogs up most newspapers and most news websites, for that matter. The new initiative will go nowhere. The new policy isn't new at all. The state won't go bankrupt. The product isn't revolutionary. And journalists pretend that these official statements and company press releases actually constitute news. Of course the public knows that most of these stories are published for the massaging of sources -- and that's why they don't read them."
Photo via Patrick McMullan