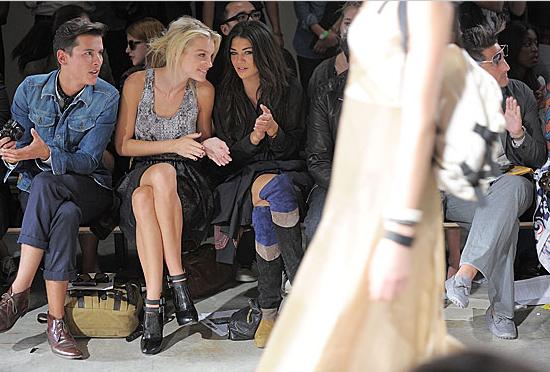 PAPERMAG's market director Luigi Tadini found himself seated next to two very lovely Jessicas at this morning's Rag & Bone show -- model Jessica Stam and actress Jessica Szohr. He took advantage of his enviable position, and conducted a little chit-chat.
Luigi Tadini:
So you collaborated with Rag & Bone for Spring 2010. How did that come about? 
Jessica Stam:
They emailed me and said they really liked my style. I love their clothes and have always worn them ever since I first heard of them. We had a mutual admiration for each other, so it was perfect for us to do something together. I made jeans, a romper, a couple of cute things like that. 
LT:
You're the ultimate Rag & Bone girl. How was the experience of doing something together? 
JS:
It was really exciting, a whole new learning experience for me. I actually learnt that I really enjoy designing. 
LT:
Is it something that you want to keep doing? Will we be seeing new Jessica Stam designs in the coming down the runway or hitting the retail floor? 
JS:
Yeah, absolutely. I actually did a capsule collection with Rachel Roy recently that's coming out at Macy's in a couple weeks. There are four pieces: a cardigan, a jean, a belt and an amazing navy leather/suede bucket bag with gold hardware. I'm very proud of it. I think you can find pictures online. 
LT:
Were you a hands-on collaborator? 
JS:
I was completely hands-on with the designers and really pushed for everything to be very high-quality. 
LT:
So you've pretty much collaborated with good friends at this point. 
JS:
Exactly. The designers have been really lovely. 
***
LT:
Are you going to a lot of shows this season, Jessica Two, aka Jessica Szhor? Anything you're excited for? 
Jessica Szhor:
I'm really excited for this show, actually. 
LT:
Do you wear a lot of Rag & Bone? 
JS:
I do. Their pieces are comfy, casual and say something when you wear them. It's right up my alley. 
LT:
What other designers are you seeing this fashion week? 
JS:
I'm a big fan of Chris Benz, Herve Leger, Marchesa. 
LT:
Oooh...That's a good line-up. Thanks ladies.
Photo from Getty Images