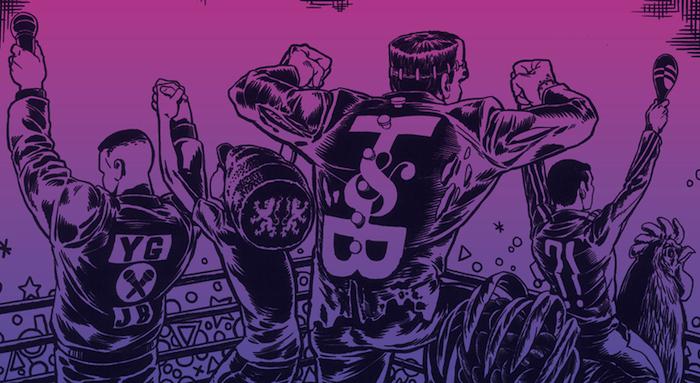 (Illustration via
Red Bull Music Academy
)
The Red Bull Music Academy has been traveling the world putting on music workshops and festivals since the late '90s. Last year, the event took over New York, with a Giorgio Moroder DJ set, Brian Eno art exhibition and lectures by Erykah Badu and James Murphy. While the big show has moved onto Tokyo for 2014, the RBMA is using the opportunity to create a smaller, annual event for the Big Apple. This year's festivities will be spread out over the month of May, featuring appearances by David Byrne, D'Angelo and a slew of others. Previously we tipped you off to the Academy's kick-off event tonight,
Bounce Ballroom
, and here, we pick nine other events you shouldn't miss.
Atomic Bomb! The Music Of William Onyeabor
Last year's Luaka Bop compilation asked
Who is William Onyeabor?
, and while details of the Nigerian synth-pioneer's life remain shrouded in mystery, rumor and incomplete Wikipedia entries, his celebratory anti-war anthems are the subject of two days of performance by David Byrne, Money Mark, Sinkane, the newly reunited Nigerian duo the Lijadu Sisters and members of Hot Chip, LCD Soundsystem and The Rapture.
BAM Howard Gilman Opera House 30 Lafayette Ave, May 2nd, 3rd 8PM, $35 - $65
Four Corners Of The Clash
Four crews will enter the soundclash and while presumably all will leave at some point, it won't be before a little head-to-head-to-head-to-head music battling ensues. Just Blaze, Trouble & Bass, Que Bajo and Federation Sound's Max Glazer & Kenny Meez will be packed in tight at Williamsburg's Baby's All Right restaurant and music venue.
Baby's All Right, 146 Broadway, Brooklyn, May 9th 10PM $10
Brooklyn Flea Record Fair
Expect cratedigging and food trucking with a view of the Manhattan skyline and performances by Sandra Electronics, Optimo, Autre Ne Veut, Charlift's Caroline Polachek and a DJ set from Tanlines.
East River State Park, 90 Kent Ave., May 10th 11AM to 6PM, Free
Larry Levan Street Party
Sunday afternoon, the festival's organizers will close off a block of King St. formerly home to the Paradise Garage in honor of the '80s-era club's legendary DJ Larry Levan. Part of a larger push to have the stretch of street named for the late DJ, the street party will feature sets from other Paradise Garage greats like David Depino, François Kevorkian and Joey Llanos, among others.
King Street between Varick and Hudson, May 11th 12PM, Free

A Night Of Improvised Round Robin Duets
Head to Town Hall for a two-hour long musical jam featuring a rotating cast of musicians appearing two at a time. The list of performers -- now 16 people long and with more to come -- includes the likes of Allen Toussaint, Petra Haden, Jamie Lidell, Kaki King and more.
Town Hall, 123 W 43rd st., May 14th 7:40PM, $30

Hardcore Activity In Progress
The theme of the night is "extreme," sampling some more traditional hardcore offerings like Napalm Death, along with ambient droner Tim Hecker, Florida rapper Gunplay, jazz trio The Thing and noise rockers Wolf Eyes. Hearos ear plugs really missed out on a solid gold sponsorship opportunity.
Knockdown Center, 52-19 Flushing Ave, May 16th 8PM, $10
Panda Bear, DâM-Funk, Torn Hawk
Noah "Panda Bear" Lennox makes a rare New York appearance sans his fellow Animal Collective cohort and will perform alongside visual psychedelics from video artist Danny Perez. Presented by the Worldless Music service, the show features opening sets from DâM-Funk and Torn Hawk.
Warsaw, 261 Driggs Ave, May 18th 8PM, $25
A Conversation With D'Angelo
Writer Nelson George sits down with the famously eccentric 90s R&B legend and longtime Soulquarian for an intimate public interview at the the Brooklyn Museum.
Brooklyn Museum, Cantor Auditorium, 200 Eastern Parkway, May 21st 6PM, $15
Red Bull Music Academy Festival New York Closing Night
The month-long festival closes things out with a musically -- and geographically -- diverse evening featuring 15 artists (Nguzunguzu and Nick Hook, among others) performing on three stages.
Abrons Arts Center, 466 Grand St., May 31st 8PM, $10