Let's be honest -- the word "basic" is gendered. Usually, "basic" is used to target women who prefer much-maligned millennial-Barbie accessories like the pumpkin spice latte and the Ugg boot. Countless thinkpieces have overexplained
(
and defended
)
the way yoga pants or bandage dresses serve as indicators of a certain lack of sartorial sophistication and complexity. But men can be basic, too.
Today's man is caught between his desire to subvert expectations, the actual emotional consequences of doing so, and his simple need to fit in. This is the Petri dish of basicness: the breeding ground of unoriginal style. So men turn to easily identifiable looks to shout, "I'm alt! I'm masc! I'm wealthy!" and in some cases, "I'm so agreeable, I could fold myself into almost nothing at all! Like this shirt! See the fold lines!?
I speak from experience. Menswear has the same sorts of conventional looks and basic pieces as women's -- some of which will be on display at New York Men's Fashion Week, and many of which I've worn or seriously wanted to wear in the recent past. So, as Lauryn Hill says, "don't think I haven't been through the same predicament". Fortunately, I have friends to sit me down and tell me to give my Amish hat a rest. But in case you aren't lucky enough to have friends with fashion compassion, here is brief a list of menswear basics that have met their end.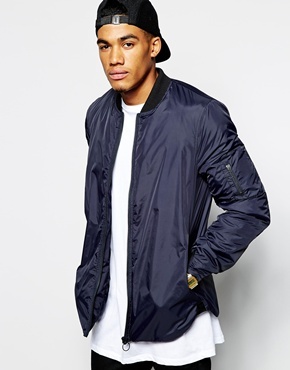 Bomber jackets and "updated" letterman jackets
These surfaced at about the time that every other blogger was heralding sporty inspiration and athleisure as the next big things in fashion. In fabrications as diverse as mesh and Kanye's heavy polyester satin, they've become a fixture in the menswear collections of countless designers, and the closets of every mildly style-conscious straight boy I know. I understand; your Meatpacking address, meticulous coiffure and burnished brass cuffs have thrown you into a bit of a metrosexual panic, but we get it. You're masculine. We have already awarded you the commensurate dude points.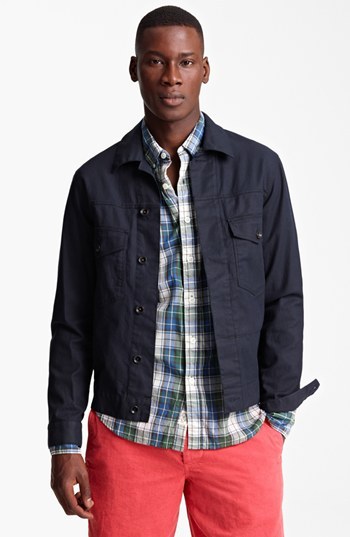 (Todd Snyder denim jacket)
If you're looking for something with that sporty heritage feeling, try an over-washed denim jacket like
Todd Snyder's
or the dark rinse from
French label, Ami
. Either will make you feel just as cool, and give everyone around you a much needed break.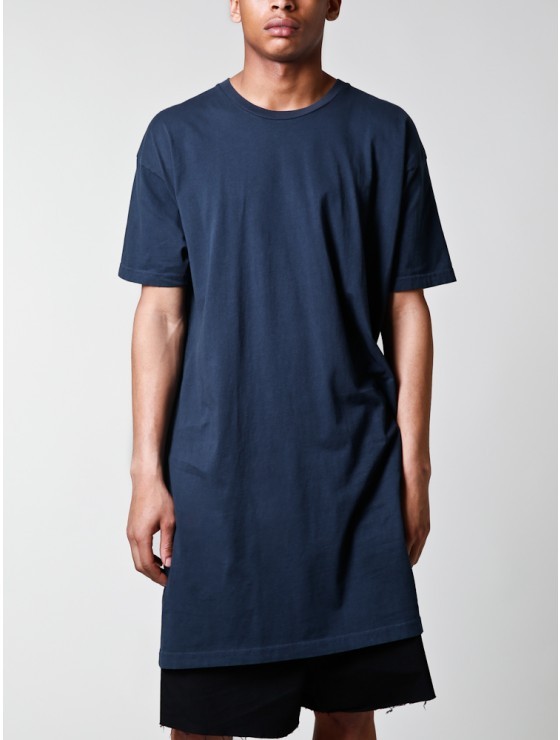 Tricky T-shirts
Generally worn by that self-proclaimed alternative kid who makes a point of using words like "wavy", the best days of these
shirts are behind them. This category spans everything from those super long, caftan-esque hip-hop post-Margiela styles to the drapier, nipple-clinging, nearly see-through looks from OAK. I'm all for avant-garde, but that should be about what's fresh; something this look has not been for quite some time.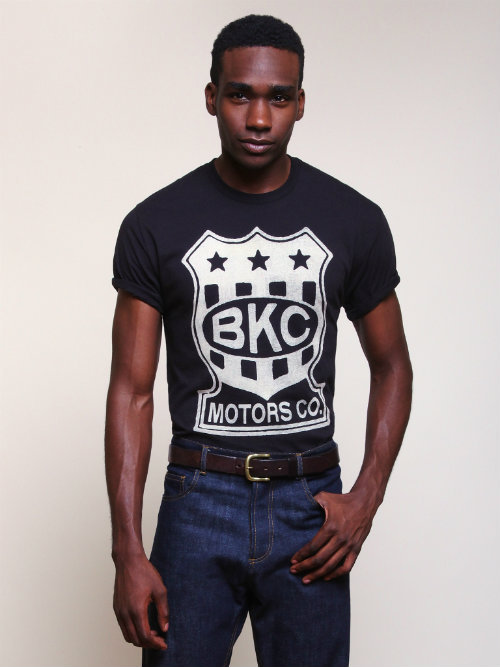 (Brooklyn Circus T-shirt)
For cooler T-shirt style, try something slimmer, in a more substantial fabric. I'm particularly drawn to the sort of sun-washed, vintage inspired offerings at
Brooklyn Circus
. In a world where it seems like each season the whole of fashion is searching for the newest in austere minimalism, it's refreshing to see something so unabashedly classic.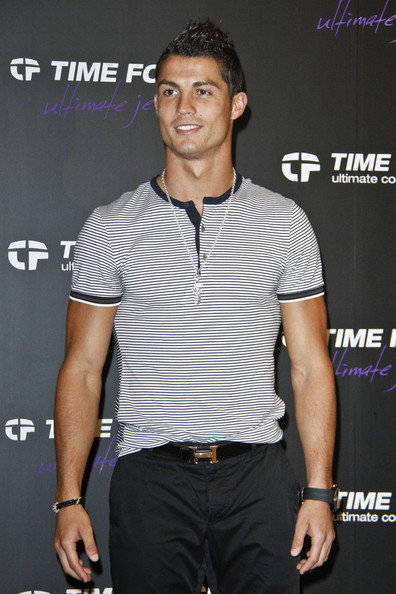 That Hermes H belt and Louis Vuitton coin purse
The sartorial equivalent of desperately screaming "I HAVE MONEY" at passersby. Ironically enough, over-sized logos clinched to the waist just don't make the tasteful splash people seem to think they might.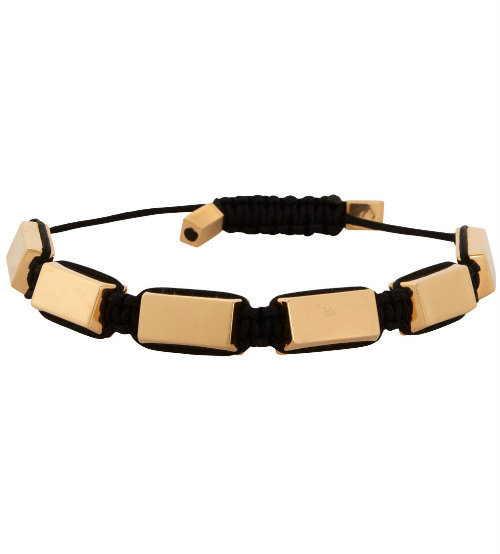 (Builliony gold bracelet)
Try a subtler take on status signaling -- maybe the beautiful and absolutely ridiculous
Bulliony Gold Bar Bracelet
. Though it costs 19.5 thousand dollars and is made of six solid 18K gold bars, they're knotted together with the same technique your sister used in her friendship bracelet phase for a look that is very understated and very chic. And if the bracelet alone is a bit too subdued for your taste, you could always flash your wrist while handing your AmEx to a barista and whisper, "I was an early investor in Uber so, y'know..."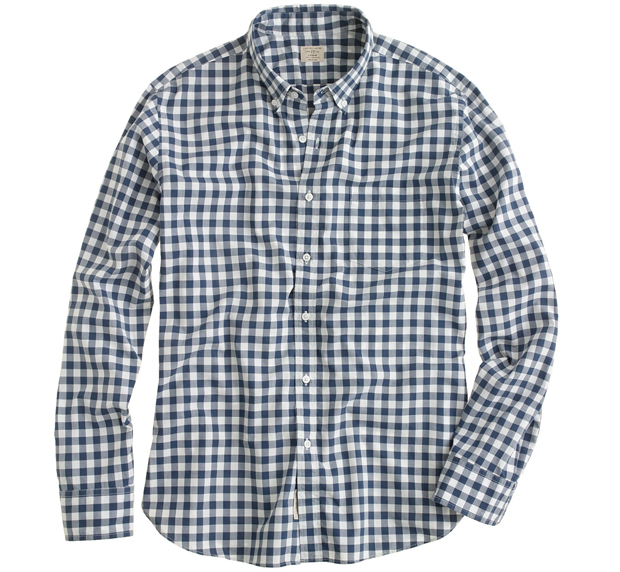 That gingham shirt
You know, that J.Crew, I-would-very-much-like-to-blend-in, please do NOT look at me, gingham shirt? Let it float away, awash in the same bland nothingness it conveyed each time you buttoned it up for a Zagat-recommended boozy brunch.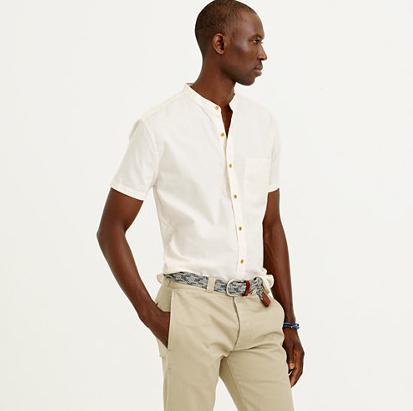 (J. Crew band-collar shirt)
If you insist on staying true to that generic white boy aesthetic, try a mandarin collar shirt in off-white or pastel. Ironically enough, J. Crew, perhaps in the knowledge that it was time to spice it up, has debuted a whole
band-collar collection
that will do you well. When paired with the skinny khakis and white low-top Jack Purcell's you almost certainly already own, it'll make a fresh, significantly less basic, take on summer dressing. 
Getting dressed can provide the escape from the adolescent (or post-adolescent) holding cell of basicness, and it takes so little time. Life can be distracting, with endless new products, work, activities, and Rihanna videos, but each day we are offered a chance to say something about who we are (and to learn a bit about ourselves in the process). So tomorrow, ditch those ironic baseball jerseys, let go of the ostentatious logos; leave the basics behind.