I caught the 300 special on The History Channel the other night and the 11-year-old in me is gonna drag my middle-aged carcass to the movie theater to see this Sci-fi-Ray-Harryhausen-meets-ancient-Greek-beefcake-in-hell cinematic blockbuster! (It was the same 11-year-old who dragged me out of the house to see Apocalypto... and my chakras are STILL shredded!)
I think there are gonna be a lot of 11-year-old boys citing this movie in about ten years time as the defining moment when they realized they were gay. YOWSER! The homoerotica on display in 300 beats the hell out of those '60s era bodybuilder magazines!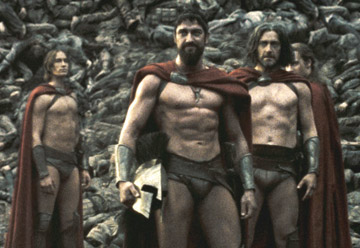 One might question thehistoric authenticity on display in this movie but as long as the special effects whisk us away to trippy fantasy worlds, who cares!? (I believe I heard on the History Channel that the Spartans were actually clad, head-to-toe, in Bronze Age armature. But that wouldn't show off awesome washboard abs very well now, would it?)
In the History Channel special, the director of 300admitted there were a few clashes between history and what appears in the original graphic novel/ comic book 300 by Frank "Sin City" Miller. Given the choice, they usually went with Miller's more fanciful comic book version. Fortunately, the History Channel also provides a more sober but no less fascinating account of the Battle of Thermopylae in another special The Last Stand of the 300.
I hope Miller does some graphic novels later sold to the movies about the real-life pillages of the Ghengis Khan and the Vikings. (This History Channel has had some very riveting programs about both recently.) You can't have too much historical violence on the silver screen! (Then again, maybe they should just edit together some footage from Iraq?)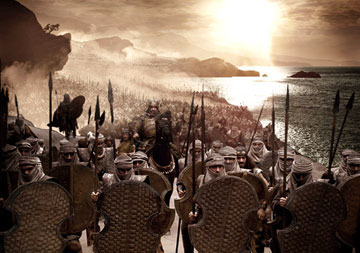 This movie is sure to ignite debate amount historians. Not to mention folks prone to histrionics ("Is 300 pro- or anti-Bush?"). Dig the comments posted on this YouTube trailer (But where, pray tell, do the Zulu fit into all this?):
atila989
The Spartans were an elite trained military force, that were trained their entire life for one thing, WAR. The Zulu were using animals skin shields and spears. They did not have bronze or have anykind of armour as good as the spartanso. The Spartan's phalanx would have torn the zulu apart.
GraveFoxVII
The Spartans only lost because someone from one of the other city states(forget who)told the Persians the way around their flank. If their flank was never revaled chances are that the Spartans may hav been able to hold on for much longer.
fireshadow99
lol people die who cares hwo accurate it is
princedime11
WHERE DO YOU FUCK HEADS COME UP WITH THIS BULL SHIT HA HAAAA HISTORICAL FACT PSST PLEASE!!!! THEY CAN FIND DINOSUARS BONES BUT THEY CANT FIND 100,000 BODIES WHERE THEY **KNOW** THIS CRAP TOOK PLACE!!!! IT IS A FUCKING ))FABLE(( A MYTH TO MAKE THE FUTURE GENERATIONS STRONGER THE SAME THE WHITE AMERICANS DID AND THE NAZIs's all lies. LIKE I SAID BEFORE ZULU'S WOULD HAVE DESTORYED THE WHOLE GOT DAMN COUNTRY ****BITCHES****

princedime11
what where are you people getting this bullshit they the fucking greatest lol Quit blowing each other and learned other race history FACTS with BONES AND WEAPONS THAT WHERE ACTUALLY STILL THERE AFTER HUNDRADS OF YEARS LOL THE ZULUS WOULD DOMAINATE THEM BITCHES

Shintao
I dont care how historically accurate it is, or what the acient sexual prefrence was, or how exagerated it is, it just looks like a kick ass movie so im going to see it tomarrow (opening night) and hopefully it will kick as much ass as the trailers say it will. But I will walk out at the first gay sex scene thou.
ak2lis
OO DAMMM THIS MOVIE IS GONNA BE THE SHIT