While night two of the Democratic National Convention included some truly beautiful moments (Bill, you makin' me cry!), perhaps the most powerful moment happened during the roll call voting for Hillary Clinton to officially be the Democratic nominee for president.
Geraldine "Jerry" Emmett, a 102-year-old woman from Arizona, was literally born before women had the legal right to vote; she proudly shouted Hillary's name during the 'Zona delegate announcement.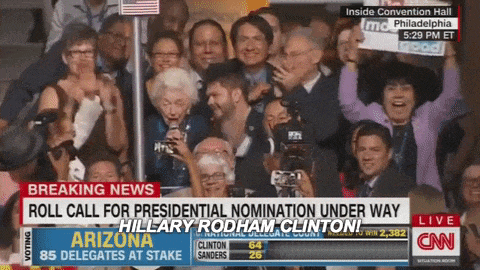 "...and 51 votes for the next president of the United States of America, HILLARY RODHAM CLINTON!"
Ms. Emmett had been featured on Hillary's Instagram page, giving a triumphant and moving quote about how important this moment is for her:
Also, watch this:
Jerry, you make me proud to be an American.