10 Non-Douchey Ways to Celebrate St. Patrick's Day In NYC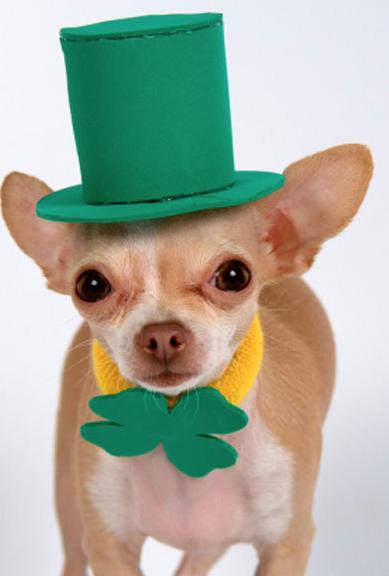 St. Patrick's Day is right around the corner and for all of you who want to celebrate the luck of the Irish without guzzling pitchers of green beer 'til you puke or scarfing down enough corned beef and cabbage to feed an entire junior high school cafeteria, you're in luck. We've rounded up ten festive ways you can celebrate in NYC without having to get a passport to doucheland.

Pre-St. Patrick's Day Dance Party at PH-D
Head to the Dream Downtown to pre-emptively dance off a few of those liquid carbs you'll surely be ingesting the next day. Aside from the usual smattering of Top 40 and electro, the NYPD Pipe and Drum Band will serenade guests and march through the party with a leprechaun. Really.
PH-D at Dream Downtown, 355 W. 16th St., Manhattan; 5:30pm-late

St. Patrick's Day For Sinners

On Sunday all your kinky Saint Patrick's Day fantasies can come true thanks to the lovely ladies of the Wasabassco Burlesque show. Come enjoy contemporary stripteases performed by voluptuous vixens with some whiskey on the rocks. Let these seductive gingers be an amazing alternative to a night of green beer guzzling and cover bands.
The Bell House 149 7th St., Brooklyn, NY; 7:30 pm; $20 Free for Redheads
St. Patty Scissoring With Frankie Sharp
Nightlife guru and PAPER fave Frankie Sharp is getting into the holiday spirit with Saint Patrick's Day Scissor Sunday at the Rusty Knot. Experience some of the sickest DJs, an amazing $2 shot special, and, did we mention a free vodka giveaway betwen 4-5pm?
The Rusty Knot, 425 West St., Manhattan; 4-10pm; Free
St. Patty's Day Feast at City Grit
Skip the lukewarm corned beef and cabbage buffets you find mid-pub crawl in favor of more gourmet grub at the Nolita perma-pop-up City Grit. Chef Sarah Simmons will be whipping up her take on that requisite corned beef with braised cabbage, garlic confit potatoes and Irish soda bread pudding.
City Grit, 38 Prince St.; 7pm; $55 can be purchased HERE
A Low-key Affair at The Woods
Not the type who enjoys a mass of drunkards or those creepy leprechauns during the holiday? Well, The Woods has a yummy alternative just for you. Come dine on Guinness- braised chicken with mashed potatoes in a casual, South Willyburg atmosphere.
The Woods, 48 S 4th St, Brooklyn; 4 pm-late; Free
Whiskey Fest at Dead Rabbit
If you haven't had enough Irish tunes and drunken fun, the Dead Rabbit bar is hosting a Whiskey Fest where you can partake of Jameson Black Barrel cocktails and traditional Irish tap. The bar will also be serving complementary beef stew.
The Dead Rabbit, 30 Water Street, Manhattan; 5 pm
St. Patrick's Day at Bill's Food and Drink
If you're the type who thinks of of "Daphne" or "Sir Alec" when you hear "Guinness" rather than the beer, head uptown to swanky Bill's Food and Drink (owned by the folks behind Crown and The Lion) where you'll find holiday-themed sandwiches, Shamrock Soft Serve (vanilla and creme de menthe) and an Irish whiskey tasting.
Bill's Food and Drink, 57 E. 54th St, Manhattan
Black 47 St. Patrick's Day Concert at B.B. King's
Head to B.B. King's Blues Club & Grill to hear celtic rock band Black 47 (named for the most dire year of the Irish potato famine) play a mix of rock, reggae, and jazz.
B.B. King's Blues Club & Grill, 237 W. 42nd St., Manhattan; Doors at 5pm; Tickets are $25 in advance, $30 day of show
Patrick McMullan's St. Patrick's Day Extravaganza
Grab a complimentary Stoli Shamrock Martini at celebrity photographer Patrick McMullan's festive St. Patty's day bash. With Lady Bunny as DJ and live performances from Irish dancers, you'll be getting your jig on all night long.
XL Nightlclub, 512 W 42nd Street, Manhattan; 10pm-4am

Invitation to a Beheading St. Patrick's Day Edition
Head to The Stand comedy club for a special St. Patty's day edition of their dark comedy stand-up night featuring an all-Irish American roster that includes Bonnie McFarlane, Colin Jost and Sean Donnelly.
The Stand, 239 Third Ave., Manhattan; 8pm; $15